Mary's Peace Prayer
Mary, Mother of God my mother, Queen of Peace, ask your Son Jesus to give me the gift of peace.
Pray for me for peace; peace in my heart, peace of mind and of soul, peace in my family, peace with all whom I meet, the peace of Jesus.
Jesus, my Lord and Savior, my Brother, King of Peace, I come to you with Mary, Queen of Peace, to ask you humbly for a new outpouring of the gift of peace.
Pour out on me your Holy Spirit of Peace. Give me peace, Jesus, peace within myself, peace in my family, peace in my everyday life.
Give peace to my nation, and to all nations, peace among all peoples, peace in the world.
Jesus, my mediator with the Father, take me to the Father to pray for peace.
Father, Father of Jesus, our Father, my Father, I come to you with your Son Jesus.
In Him and with Him and through Him I pray for peace.
Amen.

Continue Praying: "The Angelus – Prayer for Peace and Tranquility", and
"If you want peace in your heart, in your home, in your country, assemble together every night and say the ROSARY". ~ Pope St. Pius X
"Violence will not be heard again in your land, Nor devastation or destruction within your borders; But you will call your walls salvation, and your gates praise." ~ Isaiah 60:18
" And Jesus answered him: The first commandment of all is, Hear, O Israel: the Lord thy God is one God. And thou shalt love the Lord thy God, with thy whole heart, and with thy whole soul, and with thy whole mind, and with thy whole strength. This is the first commandment. And the second is like to it: Thou shalt love thy neighbour as thyself. There is no other commandment greater than these." ~ Gospel According to Saint Mark Chapter 12 : 29-31.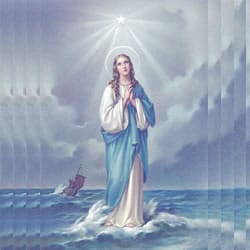 VIRGÓ SACRÁTA is a Christian mission-driven online resource and shop inspired from the beauty of Catholic faith, tradition, and arts. Our mission is to "Restore All Things to Christ!", in continuing the legacy of Pope St. Pius X under the patronage of the Blessed Virgin Mary. "Who is she that cometh forth as the morning rising, fair as the moon, bright as the sun, terrible as an army set in battle array?" O Mary, conceived without sin, pray for us who have recourse to Thee.