Description
This Sacred Heart of Jesus Devotional Candle is made of 100% pure beeswax in a 3-day lights glass container (2.75″ x 5″). Virgo Sacrata has tested these candles in a continuous burn cycle during the quality control process.
Experience the joy of 100% Pure Beeswax Candles.  They create beautiful ambiance with their warm glow, soft honey scent and air purifying effects that don't release toxins. Buy some and have your parish priest bless them for you. Always have a blessed candle in your home. Beeswax Candles are unlike any other candles, burning beeswax puts a person in a special mood of reverence.
The earlier fathers of the Church endeavored always to seek out the mystical significance of Christian practices, and one of them thus explains the reason for the Church's law requiring candles to be of beeswax: "The wax, being spotless, represents Christ's most spotless Body; the wick enclosed in it is an image of His Soul, while the glowing flame typifies the Divine Nature united with the human in one Divine Person." Others say that the blessing of candles on the day of the Presentation was suggested by the words of Simeon, who spoke of Our Lord as "the light to the revelation of the Gentiles, and the glory of Thy people Israel." (Lu. 2, 32).
"Yet a little while, the light is among you. Walk whilst you have the light, that the darkness overtake you not. And he that walketh in darkness, knoweth not whither he goeth. Whilst you have the light, believe in the light, that you may be the children of light.."  [From John 12:35-36]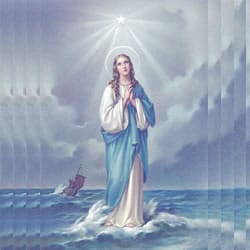 VIRGÓ SACRÁTA is a Christian mission-driven online resource and shop inspired from the beauty of Catholic faith, tradition, and arts. Our mission is to "Restore All Things to Christ!", in continuing the legacy of Pope St. Pius X under the patronage of the Blessed Virgin Mary. "Who is she that cometh forth as the morning rising, fair as the moon, bright as the sun, terrible as an army set in battle array?" O Mary, conceived without sin, pray for us who have recourse to Thee.