Description
NATURAL BEESWAX: We use 100% natural Canadian beeswax to make our candles. Our taper candles have a natural deep yellow, golden color.
BURN BEAUTIFULLY:  All of our candles have natural cotton wicks and burn without releasing any toxins, they are dripless and smokeless.
FITS MOST CANDLE HOLDERS: The base of each candle is standard and fits most candle holders – 7/9 – 1 inch. Make sure your beeswax taper is snug and secure in a proper candle holder.
NATURAL SWEET SCENT OF HONEY: Pure natural beeswax taper candle with a warm amber glow and a soft honey aroma.
LONG-LASTING: Burn time 12-13 hours.
"Blessed Candles. Every Catholic household should be provided with one or more blessed candles. These candles should be of pure bees' wax. Other kinds, such as parafine, spermacetior or tallow candles will not answer the purpose of candles prescribed by the Church. … Have a pair of candlesticks for them, so as to be able to light them at once when they are needed.

They are needed particularly when Holy Communion or the last sacraments are administered, as well as at a funeral. It  is well to light them also in times of great distress, as in sudden dangerous sickness, on occasions of violent storms, fires, floods, and the like; as the candles convey a blessing to the house."  ~ Fr. Klauder, pp. 209-210.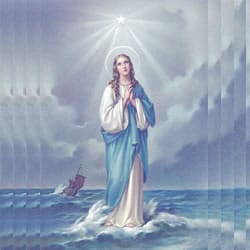 VIRGÓ SACRÁTA is a Christian mission-driven online resource and shop inspired from the beauty of Catholic faith, tradition, and arts. Our mission is to "Restore All Things to Christ!", in continuing the legacy of Pope St. Pius X under the patronage of the Blessed Virgin Mary. "Who is she that cometh forth as the morning rising, fair as the moon, bright as the sun, terrible as an army set in battle array?" O Mary, conceived without sin, pray for us who have recourse to Thee.