Description
Read "Holy Water and Its Significance for Catholics" attentively; consider these pages thoughtfully; incorporate their truths and suggestions into your daily spiritual life. In these pages, you'll also learn:
The time that God Himself commanded the use of Holy Water (Do you know where the Bible tells this story?)
Why God chose water as the means to impart so many blessings – even before He created man and woman!
What you should — and should not — expect from the graces conferred by Holy Water
Did you know that Holy Water helps not merely the souls, but even the bodies of the Faithful Departed
Why, although it's not necessary for salvation, Holy Water may be just what you need to be saved
Holy Water actually does protect you against ills, physical and spiritual – but only if you use it properly. Do you know how?
Making the Sign of the Cross with Holy Water: what it ought to bring to your mind.
A simple way to use Holy Water to ease and deepen your prayers at Mass
You know your children face many dangers. Here are ways Holy Water can protect them
The Rite of Sprinkling with Holy Water: what should you do if no drops of water reach you?
Many prayers — short and long — to help you use Holy Water frequently and efficaciously
Eight practical ways you can use Holy Water for the well-being of yourself and your loved ones.
"We cheerfully grant the episcopal imprimatur for this booklet because it correctly presents the teaching of the Church concerning sacramentals, specifically that of Holy Water, and it likewise encourages in popular form, and from practical viewpoints to the faithful, the wholesome use of Holy Water."
Ratisbon, 28 March, 1906. The Episcopal Ordinary,  Fr. Leitner, Vicar-General.
HOLY WATER and Its Significance for Catholics
CONTENTS:
AUTHOR'S FOREWORD
I. THE SlGNIFICANCY OF WATER IN THE REALM OF NATURE AND OF GRACE
II. HOLY WATER A SACRAMENTAL; ITS RELATION TO THE SACRAMENTS
III. BLESSING OF THE WATER
IV. THE EFFECTS OF HOLY WATER
(a) THEIR CAUSES
(6) EFFECTS FOR THE WELFARE OF THE BODY
(c) EFFECTS FOR THE GOOD OP THE SOUL
V. THE APPLICATION OF HOLY WATER BY THE CHURCH
VI. APPLICATION OF HOLY WATER BY THE FAITHFUL
INDULGENCES
CONCLUSION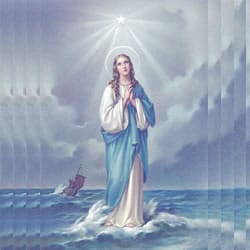 VIRGÓ SACRÁTA is a Christian mission-driven online resource and shop inspired from the beauty of Catholic faith, tradition, and arts. Our mission is to "Restore All Things to Christ!", in continuing the legacy of Pope St. Pius X under the patronage of the Blessed Virgin Mary. "Who is she that cometh forth as the morning rising, fair as the moon, bright as the sun, terrible as an army set in battle array?" O Mary, conceived without sin, pray for us who have recourse to Thee.