Description
This icon of the Blessed Virgin depicts Mary under the title "Our Lady of Sorrows", in Latin "Mater Dolorosa",  in Russian "Semistrelnaia", also often referred as "The Softening of Evil Hearts".  Popular in both Eastern and Western Christianity, this icon has a long tradition of veneration.
The metal cover (riza) protecting "Our Lady of Sorrows" is coated with a mirror's smooth surface of .925 sterling silver and gilt . The icon under the riza is made by silk-screen printing method, a special paint is applied layer by layer 23 times, producing clear and crisp image.
In contemplating the image of Our Lady of Sorrows, we are drawn to the intercessory role that Mary plays in our lives. She is a refuge for those who have suffered, and she walks alongside us in our trials because she knows what it is to suffer heartache and loss. In the Eastern Tradition, we also pray for those who cause others to suffer, that God might turn their hearts to the good: "Rejoice, much-sorrowing Mother of God, turn our sorrows into joy and soften the hearts of evil men!" goes the Orthodox refrain. We too might echo that refrain as we observe the suffering in our world caused by evil desires.
Prayer to Mary, Softener of Evil Hearts
SOFTEN our evil hearts, O Mother of God,
quench the attacks of those who hate us
and loosen all straightness of our soul.
For looking on your image
we are filled with compassion by your suffering and loving-kindness for us
and we kiss your wounds;
we are filled with horror for the darts with which we wound your love.

Let us not, O Mother of Compassion,
according to the cruelty of our hearts,
perish from the cruelty of heart of those near us,
for you are in truth the Softener of Evil Hearts.
(from the Akathist to the Mother of God, Softener of Evil Hearts)
"Softener of Evil Hearts"… What a great deal of hope there is in the name of this Icon: hope that some day justice will triumph on earth, that people will become kind and charitable, will begin to love one another. How difficult that is in our embittered world, and sometimes the mere sight of someone else's suffering is enough to soften our own evil hearts…"
All those who turn to this icon in prayer sense that with the softening of evil hearts comes an easing of spiritual and physical suffering. People come to realize that, when they pray for their enemies before this icon, their feelings of enmity are softened, and that strife and hatred leave, giving way to kindness.
The Feast of Our Lady of Sorrows (Latin: Septem Dolorum Beatae Mariae Virginis) grew in popularity in the 12th century, although under various titles.  By the fourteenth and fifteenth centuries, the feast and devotion were widespread throughout the Church.  In 1727, Pope Benedict XIII extended a feast commemorating the sorrowful Virgin Mary to the whole of the Latin Church, assigning to its celebration the Friday in Passion Week, one week before Good Friday. The devotion was also extended by Pope Pius VII in 1815  and introduced into the Missal and Breviary.
The feast of Our Lady of Sorrows is liturgically celebrated now on September 15th, while a feast of Friday of Sorrows remains a solemn pious remembrance of the sorrowful Blessed Virgin Mary on the Friday before Palm Sunday during the "Passion Week".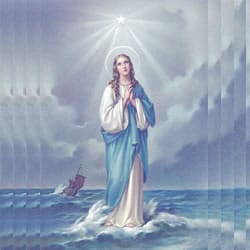 VIRGÓ SACRÁTA is a Christian mission-driven online resource and shop inspired from the beauty of Catholic faith, tradition, and arts. Our mission is to "Restore All Things to Christ!", in continuing the legacy of Pope St. Pius X under the patronage of the Blessed Virgin Mary. "Who is she that cometh forth as the morning rising, fair as the moon, bright as the sun, terrible as an army set in battle array?" O Mary, conceived without sin, pray for us who have recourse to Thee.