Description
The Blessed Virgin Mary Garden Statue
---
Our Blessed Virgin Mary garden statue is sure to be the crowning glory of any church, home gallery or contemplation garden for generations. The Blessed Mother, standing on a base of heavenly clouds, features a metal aureole of glory around her head. Her hands are open and beautiful head is tilted in pious prayer. This Virgin Mary sculpture is a sacred garden statue captured in quality designer resin and authentically hand-painted one piece at a time in an antique stone finish, to replicate the Italian antique original.
How to Make Your Own Mary Garden?
Mary Garden is a garden, filled with flowers, plants and trees named for Our Lady and Jesus, designed to be a place of beauty that reminds us of our Lord and our Lady, allows one to experience God's creation, and invites prayer and contemplation. Because Mary is a type of the Church as Bride, the garden should be enclosed if at all possible, based on the words in the fourth chapter of Solomon's Canticle of Canticles.
Please also consult our "Winter Care of Statues" page to make your statues last the longest and keep their beauty over time.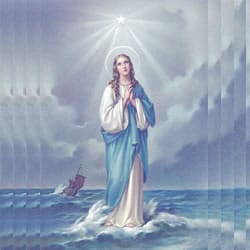 VIRGÓ SACRÁTA is a Christian mission-driven online resource and shop inspired from the beauty of Catholic faith, tradition, and arts. Our mission is to "Restore All Things to Christ!", in continuing the legacy of Pope St. Pius X under the patronage of the Blessed Virgin Mary. "Who is she that cometh forth as the morning rising, fair as the moon, bright as the sun, terrible as an army set in battle array?" O Mary, conceived without sin, pray for us who have recourse to Thee.