Description
Best of the Monks of Solesmes each CD in this two-volume set, with Gregorian chants from the 10th to the 17th centuries, contains the best of the Monks of Solesmes—including the Te Deum, Stabat Mater, Ave Maria, chants for the Liturgical Year from Advent to Pentecost, hymns from the service of Compline, chants devoted to Our Lady and the Blessed Sacrament, as well as the Mass of the Angels.
Since 1833, the research and study of Gregorian Chant by the Monks of the Abbey of St. Peter in Solesmes, France, has focused on making this sung form of prayer the finest possible offering for God, to whom it is addressed six times a day at the Abbey.
Each piece is taken from the Liber Cantualis and the corresponding reference number in the Cantualis is provided for each track, as well as the respective place in the service and/or liturgical calendar.
Sung in historical style, the chants on this disc are ideal for those who are familiar with the chant liturgy, as a collection of familiar melodies, as well as those wanting to become familiar with Gregorian chant.
Best of the Monks of Solesmes CD Audio Samples
---
Asperges Me
Iesu Dulcis Memoria
Rorate Caeli
Gloria VIII
Alleluia, Confimini Domino
Ave Maris Stella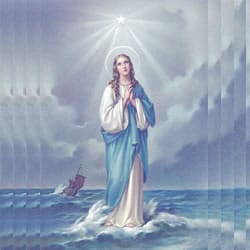 VIRGÓ SACRÁTA is a Christian mission-driven online resource and shop inspired from the beauty of Catholic faith, tradition, and arts. Our mission is to "Restore All Things to Christ!", in continuing the legacy of Pope St. Pius X under the patronage of the Blessed Virgin Mary. "Who is she that cometh forth as the morning rising, fair as the moon, bright as the sun, terrible as an army set in battle array?" O Mary, conceived without sin, pray for us who have recourse to Thee.