Description
Saint Jude bracelet in sterling silver with St Jude medals and Pierce Miraculous Heart medal.
Bracelet measures 7.5 inches, and with a 1.5 inch chain extender allowing for 9 inches.
6mm Genuine Malachite round beads
Sterling silver wire and chain
Exclusive designed 11/16″ Saint Jude Medals in sterling silver
Pierce Miraculous Heart 9/16″ Medals in sterling silver
Deluxe velvet box
Made in the USA
Today, more than ever before, has the name of St. Jude Thaddeus been brought to the attention of our Catholic people, particularly because of the numerous miracles and favors that have been received through his powerful intercession. As a result, he is popularly called "the Patron of Difficult cases.

St. Jude Thaddeus was closely associated with our Lord by blood relationship through Saints Joachim and Ann, the parents of the Blessed Virgin. A grand-nephew of these two saints, he is at once a nephew of Mary and Joseph, which, of course, places him in the relationship of cousin of our Lord.

Ref: Saint Jude : apostle of those in need
by Lovasik, Lawrence G. (Lawrence George), 1913-1986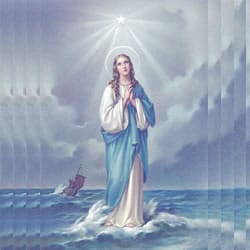 VIRGÓ SACRÁTA is a Christian mission-driven online resource and shop inspired from the beauty of Catholic faith, tradition, and arts. Our mission is to "Restore All Things to Christ!", in continuing the legacy of Pope St. Pius X under the patronage of the Blessed Virgin Mary. "Who is she that cometh forth as the morning rising, fair as the moon, bright as the sun, terrible as an army set in battle array?" O Mary, conceived without sin, pray for us who have recourse to Thee.