Description
This bracelet is made from all sterling silver parts.  Patron Saint Medals include St Therese, St Jude, St Joseph, St Anthony, St Christopher, St Anne, Miraculous Medal, Sacred Heart and Sterling Silver Crucifix.
Bracelet measures 7.5 inches, and with a 1.5 inch chain extender allowing for 9 inches.
Sterling silver patron saint medals size: 18mm x 10mm
Sterling silver wire and chain.
Exclusive designed Miraculous Medal and crucifix in sterling silver.
Deluxe velvet box.
Made in the USA.
St Thérèse of Lisieux is a patron saint of missionaries, loss of parents, priests, and the sick.
St Jude is the patron saint of desperate cases and lost causes.
St Joseph is the patron saint and the protector of the Catholic Church, the sick, and of a happy death.
St Anthony  is the patron saint of lost things and invoked for the return of lost property.
St Christopher patron is the patron saint of travelers and long journey (including spiritual).
St Anne is the patron saint of pregnancy, childless people, expectant mothers.
The Miraculous Medal is also known as the Medal of Our Lady of Graces.
The medal of Sacred Heart Jesus is the symbol of His love and sacrifice.
All these medals are considered sacramentals when properly blessed and used with devotion.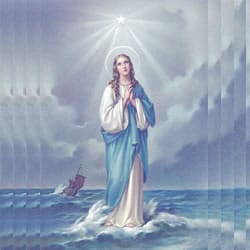 VIRGÓ SACRÁTA is a Christian mission-driven online resource and shop inspired from the beauty of Catholic faith, tradition, and arts. Our mission is to "Restore All Things to Christ!", in continuing the legacy of Pope St. Pius X under the patronage of the Blessed Virgin Mary. "Who is she that cometh forth as the morning rising, fair as the moon, bright as the sun, terrible as an army set in battle array?" O Mary, conceived without sin, pray for us who have recourse to Thee.