Description
St-Jude Patron Saint Rosary Parts
Beads: Genuine Green Malachite Gemstone from South Africa, Grade AAA
Rosary Center:  Saint Jude 1-1/4″ (32 mm), Solid Bronze, Antique Reproduction
Crucifix: 2-3/4″ (70 mm), Solid Bronze, Antique Reproduction
Bead Caps: Brass
Wire: Bronze
Method:  Wire-wrapped by hand
Total Length:  35″ (89 cm)
Gift box:  Included
Additional Product Information Tab contains information pertaining to shipping box dimensions only.
Saint Jude Rosary Comes with the Booklet:
"St. Jude Thaddeus: Helper in Desperate Cases"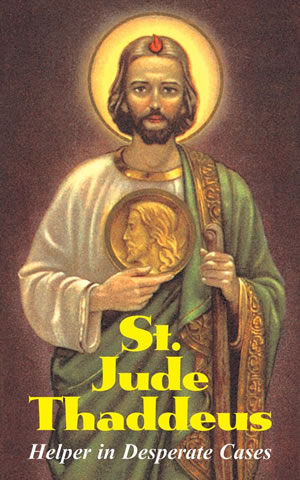 In desperate circumstances, the Faithful have always turned to the sure help of St. Jude Thaddeus – Apostle, cousin of Our Lord, and martyr for the Catholic Faith. This powerful Saint is invoked in cases of extreme need, grievous illness, poverty, and when circumstances seem hopeless. Plus, he is a special defender of (and helper in regaining) purity. St. Jude has obtained remedies and comfort for countless people who have turned to him in prayer. It explains his relationship to Our Lord and describes his preaching of the Gospel in Persia. There, along with St. Simon, he performed many miracles, defeated two magicians, converted thousands – including kings – and was martyred. Besides many interesting traditions about St. Jude, this booklet also contains the entire text of the Epistle of St. Jude with an explanation of this little-known New Testament book. Also includes famous, powerful prayers and novenas. 64 Pages.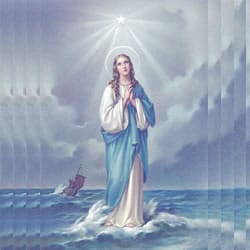 VIRGÓ SACRÁTA is a Christian mission-driven online resource and shop inspired from the beauty of Catholic faith, tradition, and arts. Our mission is to "Restore All Things to Christ!", in continuing the legacy of Pope St. Pius X under the patronage of the Blessed Virgin Mary. "Who is she that cometh forth as the morning rising, fair as the moon, bright as the sun, terrible as an army set in battle array?" O Mary, conceived without sin, pray for us who have recourse to Thee.