Description
Missel Quotidien Complet Pour la Forme Extraordinaire du Rite Romain. Entièrement recomposé et conforme au code des rubriques du bienheureux Jean XXIII, ce missel latin-français comprend, avec l'Imprimatur de l'archevêque d'Avignon, Mgr Jean-Pierre Cattenoz :
• LE TEMPORAL avec toutes les messes de l'année liturgique, ainsi que les offices et les Ténèbres de la Semaine sainte
• LE SANCTORAL avec les fêtes des saints et messes propres à certains lieux, ainsi que les saints récemment canonisés et inscrits au calendrier liturgique de l'Église romaine.
• LES MESSES VOTIVES
• LE RITUEL des sacrements et des sacramentaux (bénédictions)
• RECUEIL DE PRIÈRES
• CHANT GRÉGORIEN kyriale, messe des défunts, antiennes à la Sainte Vierge…
• Plusieurs index (alphabétique, biblique…) et tables
LES NOUVEAUTÉS POUR CETTE ÉDITION
– Composé et imprimé en 2 couleurs (noir et rouge)
– Traductions entièrement revues et corrigées par un moine de l'abbaye Sainte-Madeleine
– Un catéchisme liturgique comme introduction générale, avec 4 cartes
– Chaque partie du missel et chaque temps liturgique (Avent, Noël, Épiphanie…) est précédé d'une courte introduction sous forme de petit catéchisme
– Pour les dimanches et fêtes, outre les commentaires liturgiques, nous avons ajouté de courtes méditations tirées du trésor des écrits des saints et du magistère
– Des illustrations pour les dimanches et les fêtes principales (réalisés par deux moines et un ami de l'abbaye)
– Missel, tranche dorée et 6 signets, livré dans un boîtier assorti rigide.
Pagination : 2640 pages
Dimensions : 11 × 18 × 5,3 cm
EAN : 9782906972889
Poids : 800 g
Missel Quotidien Complet Pour la Forme Extraordinaire du Rite Romain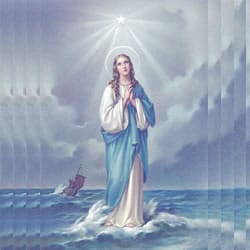 VIRGÓ SACRÁTA is a Christian mission-driven online resource and shop inspired from the beauty of Catholic faith, tradition, and arts. Our mission is to "Restore All Things to Christ!", in continuing the legacy of Pope St. Pius X under the patronage of the Blessed Virgin Mary. "Who is she that cometh forth as the morning rising, fair as the moon, bright as the sun, terrible as an army set in battle array?" O Mary, conceived without sin, pray for us who have recourse to Thee.