Description
The Holy Name of Jesus Rosary Parts
---
Aves: Angelite Gemstone Beads 8 mm
Paters: Angelite Gemstone Beads 10 mm
Rosary Center:  Sacred Heart of Jesus (15mm x 15mm) Scapular, Sterling Silver .925, Hand-Engraved.
Crucifix: IHS 1 3/4 x 1 1/8 inches (46mm x 28mm), Sterling Silver .925, Hand-Engraved
Bead Caps: Sterling Silver
Chain:  Sterling Silver
Wire: Sterling Silver Round Wire
Total Length:  33″ (84 cm)
Gift box:  Included
Additional Product Information Tab contains information pertaining to shipping box dimensions only
"May Mary help us to welcome within ourselves the grace emanating from these mysteries, so that through us we can "water" society, beginning with our daily relationships, and purifying them from so many negative forces, thus opening them to the newness of God. The Rosary, when it is prayed in an authentic way, not mechanical and superficial but profoundly, it brings, in fact, peace and reconciliation. It contains within itself the healing power of the Most Holy Name of Jesus, invoked with faith and love at the center of each "Hail Mary." (Pope Benedict XVI)

"For whosoever shall call upon the name of the Lord, shall be saved." Romans 10:13.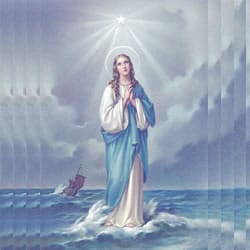 VIRGÓ SACRÁTA is a Christian mission-driven online resource and shop inspired from the beauty of Catholic faith, tradition, and arts. Our mission is to "Restore All Things to Christ!", in continuing the legacy of Pope St. Pius X under the patronage of the Blessed Virgin Mary. "Who is she that cometh forth as the morning rising, fair as the moon, bright as the sun, terrible as an army set in battle array?" O Mary, conceived without sin, pray for us who have recourse to Thee.