Description
This Chaplet of the Infant Jesus of Prague is made with an exact replica of authentic antique medal and Carnelian semiprecious gemstone beads, traditionally wire-wrapped by hand, making the chaplet virtually unbreakable.
Chaplet of the Infant Jesus of Prague – Parts:
---
Beads: Genuine Carnelian Semiprecious Gemstone, Faceted 10 mm (15 beads)
Medal: 2″ x 1 7/8″ (50mm), Hand Cast in Solid Bronze. Exact Replica of Authentic Antique Medal.
Bead Caps: 30, Brass
Wire: Bronze
Method: Wire-wrapped by hand
Total Length: 13,5″ (34 cm)
Gift box: Included
Additional Product Information Tab contains information pertaining to shipping box dimensions only.
THE INFANT JESUS CHAPLET
---

Directed by heavenly guidance, Venerable Sister Marguerite of the BI. Sacrament (1619-1648), a Carmelite nun, fashioned the Infant Jesus Chaplet. Because its recitation pleases Him so very much, Jesus promised Ven. Sister Marguerite that the faithful who recite it in memory of His Birth, His Flight into Egypt, and His Hidden Life at Nazareth, will not only be granted the special graces of purity of heart and innocence, but in addition will be unfailingly assisted by His Divine Help in all their spiritual and temporal wants.  Cures and miracles without number were wrought through devotion to the Divine Child.
Moreover, to encourage the use of this Holy Chaplet, Pope Pius IX granted a 100 days indulgence for each recitation, also applicable to the Poor Souls (Aug. 9, 1855).
How to pray the Infant Jesus Chaplet
---
While meditating on the goodness of the Infant Jesus whose Image is portrayed on the medal, say:
"Divine Infant Jesus, I adore Thy Cross and I accept all the crosses Thou will be pleased to send me. Adorable Trinity, I offer Thee for the glory of the Holy Name of God, all the adoration of the Sacred Heart of the Holy Infant Jesus."
Next devoutly recite the Our Father three times in honour of the Holy Family of Jesus, Mary and Joseph.
Before each Our Father says the aspiration "And the Word was made flesh and dwelt amongst us."
In memory of the twelve years of Jesus and His Sacred Infancy, recite twelve Aves's (Hail Marys), and before each one the same aspiration is said: "And the Word was made flesh and dwelt amongst us."
In conclusion, the invocation is said, "Holy Infant Jesus, bless and protect us."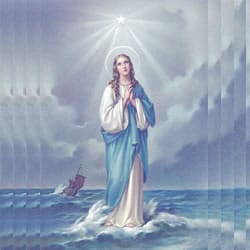 VIRGÓ SACRÁTA is a Christian mission-driven online resource and shop inspired from the beauty of Catholic faith, tradition, and arts. Our mission is to "Restore All Things to Christ!", in continuing the legacy of Pope St. Pius X under the patronage of the Blessed Virgin Mary. "Who is she that cometh forth as the morning rising, fair as the moon, bright as the sun, terrible as an army set in battle array?" O Mary, conceived without sin, pray for us who have recourse to Thee.