Description
Meditation on the Passion of Jesus Christ is compiled from various sources, with an introduction by Fr Reginald Walsh, reprint of the 1922 edition. Among the many subjects proposed by the Church to us for mental prayer, there is none more profitable than the sublime mystery of Calvary.
For even where everything is supremely holy—namely, in the actions of Him Who is the way, and the truth, and the life—the Passion is the culmination of sanctity, the highest exercise of virtue, the greatest cause of merit.
Hence devout meditation on it produces most abund­ant fruit in souls. And for this reason, Saints and Doctors of the Church—those who are specially enlightened, those who spoke from experience, those who are our best guides in the spiritual life—with one accord praise and glorify it… A Member of the Institute of the Blessed Virgin Mary, who, as Mistress of Novices for about thirty years, had gained great experience in the formation of religious as well as in the varied requirements of conventional life, proposed by means of this book to impart to her Sisters the fruit of her own reflections on the Passion, which one so spiritual and enlightened was exceptionally fitted to compile.
As might have been anticipated, the excellence of the work, which she had intended for the use of her Sisters, in course of time became known to several persons, in one or other way connected with the Institute of the Blessed Virgin. And among them, some are of opinion that this treasure should no longer be allowed to remain almost hidden in the cloister. They have represented that outside the convents of the Institute there are many devout souls to whom the Meditation would be most acceptable. In accordance with their suggestion, and in compliance with their wish, it is now reprinted.
Meditation on the Passion author: A Mistress of Novices, edited by Father Reginald Walsh, O.P.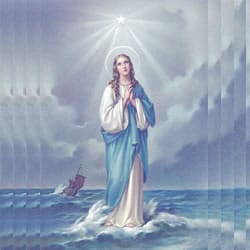 VIRGÓ SACRÁTA is a Christian mission-driven online resource and shop inspired from the beauty of Catholic faith, tradition, and arts. Our mission is to "Restore All Things to Christ!", in continuing the legacy of Pope St. Pius X under the patronage of the Blessed Virgin Mary. "Who is she that cometh forth as the morning rising, fair as the moon, bright as the sun, terrible as an army set in battle array?" O Mary, conceived without sin, pray for us who have recourse to Thee.