Description
Madonna of Bruges Garden Statue is a sculpture by Michelangelo of Mary with the infant Jesus. By artist Michelangelo Buonarrotti (1475-1564), in the Church of Our Lady, Bruges, Belgium. Michelangelo's depiction of the Madonna and Child differs significantly from earlier representations of the same subject, which tended to feature a pious Virgin smiling down on an infant held in her arms. Instead, Jesus stands upright, almost unsupported, only loosely restrained by Mary's left hand, and appears to be about to step away from his mother and into the world. Meanwhile, Mary does not cling to her son or even look at him, but gazes down and away, as if she knows already what is to be her son's fate. It is believed the work was originally intended for an altar piece. If this is so, then it would have been displayed facing slightly to the right and looking down.
Madonna of Bruges statue is cast in quality designer resin, – this enthroned Madonna creates a spiritual sanctuary nestled beneath your favorite tree, or awarded a place of honor in a spot for indoor meditation.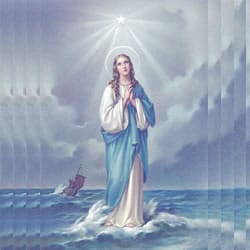 VIRGÓ SACRÁTA is a Christian mission-driven online resource and shop inspired from the beauty of Catholic faith, tradition, and arts. Our mission is to "Restore All Things to Christ!", in continuing the legacy of Pope St. Pius X under the patronage of the Blessed Virgin Mary. "Who is she that cometh forth as the morning rising, fair as the moon, bright as the sun, terrible as an army set in battle array?" O Mary, conceived without sin, pray for us who have recourse to Thee.