Description
Holding symbols of virtue, our stately angels share the light of Faith, Hope and Life as they raise your candles high. Cast in quality designer resin to herald every detail of the amazing sculpts, their feathered wings and draped gowns are finished in antique stone.
Customer Review from St. Patrick Church
I was pleasantly surprised to discover that these angels were of great quality. So, good in fact that I placed them next to tabernacle in our church. The holders are small but I was able to fit our church's regular altar candles in them. The very same day I placed them I had many people comment on how nicely they dressed the tabernacle. I could not help but think of the Great Temple of Jerusalem and how the Ark had two angels guarding it also. These angels were an inexpensive way to improve our liturgy. The only improvement I could make is to colorize them and perhaps make the holder part a little larger.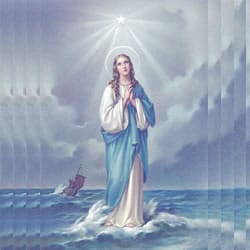 VIRGÓ SACRÁTA is a Christian mission-driven online resource and shop inspired from the beauty of Catholic faith, tradition, and arts. Our mission is to "Restore All Things to Christ!", in continuing the legacy of Pope St. Pius X under the patronage of the Blessed Virgin Mary. "Who is she that cometh forth as the morning rising, fair as the moon, bright as the sun, terrible as an army set in battle array?" O Mary, conceived without sin, pray for us who have recourse to Thee.