Description
Madonna of Humility
---
Set before a richly ornamental brocade tapestry of honor, the haloed Christ Child embraces the Holy Mother Mary who holds the lily of purity. Madonna of Humility is an authentic stretched canvas replica painting, capturing the original work's texture, depth of color, and even its subtle brushstrokes, which are applied by hand. Unique in its circular shape, the imported, gold-toned quality designer resin frame is embellished with a leaf motif.
Specifications
Weights & Dimensions
Madonna of Humility Small Size
Overall: 24″ H x 24″ W
Overall Product Weight: 15 lbs
Overall: 1″ D
Madonna of Humility Medium Size
Overall: 37″ H x 37″ W
Overall Product Weight: 24 lbs
Overall: 1″ D
Fra Angelico was an Early Italian Renaissance painter described by Vasari in his Lives of the Artists as having "a rare and perfect talent". In modern Italian he is called il Beato Angelico (Blessed Angelic One) the common English name Fra Angelico means the "Angelic friar". In 1982 Pope John Paul II proclaimed his beatification, in recognition of the holiness of his life, thereby making the title of "Blessed" official.
Madonna of Humility painting by Fra Angelico belongs to the Thyssen-Bornemisza Museum in Madrid and is conserved on loan at the National Art Museum of Catalonia.
Upon the election of Pope Francis in 2013, Russian Orthodox Bishop Hilarion Alfeyev gifted a similar icon of Our Lady of Humility, which the Roman Pontiff accepted; then donated to Pope Emeritus Benedict XVI during their farewell meeting at Castel Gandolfo.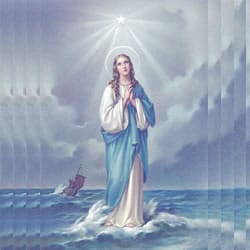 VIRGÓ SACRÁTA is a Christian mission-driven online resource and shop inspired from the beauty of Catholic faith, tradition, and arts. Our mission is to "Restore All Things to Christ!", in continuing the legacy of Pope St. Pius X under the patronage of the Blessed Virgin Mary. "Who is she that cometh forth as the morning rising, fair as the moon, bright as the sun, terrible as an army set in battle array?" O Mary, conceived without sin, pray for us who have recourse to Thee.