Description
Hand-Carved Wood Icon of Our Lady surrounded with mini Icons. There are five main types of representation of the Theotokos in Orthodox iconography:
The Guide; Hodigitria – In this type, the Ever Virgin Mary is holding Christ and pointing toward Him, as a guide to God and salvation.
Tender Mercy; Eleusa – In this type, the Theotokos holds her Son, who touches his face to hers and wraps at least one arm around her neck or shoulder. The Theotokos represents the Church of Christ, thereby displaying the fullness of love between God and man, a love that can only be achieved within the bosom of church, the Mother.
All Merciful, Panakranta – In this type, Mary is regally enthroned with Baby Jesus on her lap, both facing the viewer. The throne symbolizes her royal glory, she alone is perfect among those born on earth. According to the Fourth Ecumenical Council, she presides with Christ over the destiny of the world.
Intercessor, Agiosortissa – Mary is shown alone, in profile with her hands held out in supplication. She is facing to her left, usually to a separate icon of Christ.
Praying, – Oranta , Panagia , Lady of the Sign – In this type, Mary is shown with arms in ornate position, with Christ enclosed in a circle in her womb. "Of the Sign," is a reference to the words of Isaiah 7:14, "The Lord himself shall give you a sign. Behold a virgin shall conceive, and bear a son, and his name shall be called Emmanuel."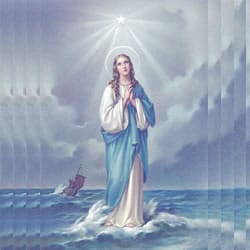 VIRGÓ SACRÁTA is a Christian mission-driven online resource and shop inspired from the beauty of Catholic faith, tradition, and arts. Our mission is to "Restore All Things to Christ!", in continuing the legacy of Pope St. Pius X under the patronage of the Blessed Virgin Mary. "Who is she that cometh forth as the morning rising, fair as the moon, bright as the sun, terrible as an army set in battle array?" O Mary, conceived without sin, pray for us who have recourse to Thee.