Miraculous medal rosary center is the Medal of the Immaculate Conception known as the Miraculous Medal.
Green Onyx Miraculous Medal Rosary Rosary Parts
---
Beads: Green Onyx Semiprecious Stone, 8 mm (53 beads), 10 mm (6 beads), 4mm (16 beads)
Rosary Center:  The Miraculous Medal 1″ (24 mm), Lead Free Brass
Crucifix: 2-1/8″ (60 mm), Lead Free Brass
Bead Caps: 12, Brass
Wire: Bronze
Method:Wire-wrapped by hand
Total Length: 35″ (89 cm)
Gift box:  Included
–
About Miraculous Medal
---
As with all sacramentals, the Miraculous Medal is not some "lucky charm". Please keep in mind that in expressing devotion to Mary, we do not worship her, but rather honor her in her devotion to our Lord.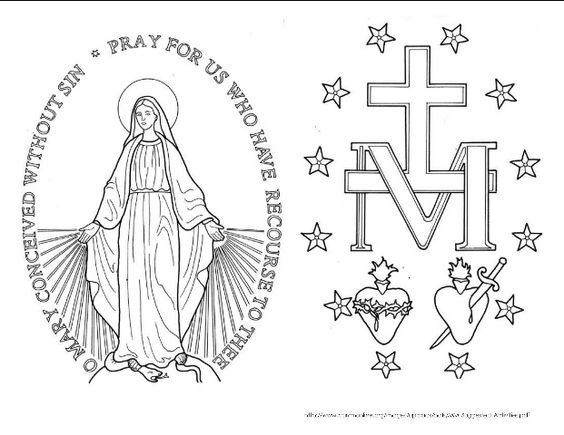 The design of the Miraculous Medal shows Mary standing on a globe crushing the head of a serpent. This is in line with scripture, from Genesis 3:15, which foretells Satan's ultimate defeat at the hands of her Son.
On the back of the medal we see symbols of Jesus and Mary, in the Cross (the symbol of her Son's victory over sin and death for us at Calvary) with the Letter "M" for Mary right underneath it. Directly underneath that are two hearts, the Sacred Heart of Jesus and the Immaculate Heart of Mary, both filled with great love for each other and for us too!
We see their sadness over our sins as well in this depiction. On the left side are the thorns of our indifference and ingratitude piercing our Lord's Sacred Heart even while it burns with love for us. On the right side we see a sword piercing Mary's heart, which is filled with sorrow as well as love. Surrounding these poignant images we see twelve stars symbolizing the twelve apostles.
On the front of the medal we see our Lady's hands outstretched with rays of light, symbolizing grace, streaming from her fingers.  We are reminded here of St. Louis de Montfort's reference to her as the "treasurer and dispenser of God's graces."
We can see from all this that the Miraculous Medal is an important sacramental, indeed, as it can give us the graces Our Lady wishes us to have on behalf of her Divine Son. Indeed, she herself said to St. Catherine when giving her the vision of the medal "Have a medal made according to this model. Everybody who wears it will receive great graces by wearing it around the neck. The graces will be abundant for persons who wear the Miraculous Medal or the Miraculous Medal Rosary with confidence. Remember, however, that the most important place of honor for Mary must be in our hearts, not around our necks.
Mary showed St. Catherine an intriguing symbol in her Miraculous Medal vision. The rays of light emanating graces came from sparkling jewels on Our Lady's fingers. St. Catherine noticed, however that some of these jewels were dark and not giving forth any light. Mary explained that "those stones which remain dark symbolize the graces people have forgotten to request." Don't let such graces be lost on you! And don't ever be afraid to ask for her help in obtaining Christ's mercy!