Our Lady of Sorrows One Decade Rosary is made with genuine garnet semiprecious gemstone beads, and brass parts traditionally wire-wrapped in bronze wire by hand, making the rosary virtually unbreakable.
Our Lady of Sorrows One Decade Rosary Parts
---
Beads: Genuine Garnet Semiprecious Gemstone, 10 mm (15 beads)
Rosary Center: Seven Sorrows 3/4 x 1/3
IHS Crucifix: 1 3/4 x 1 1/8″, Brass
Bead Caps: Brass
Wire: Bronze
Method: Wire-wrapped by hand
Total Length:  15″ (38 cm)
Gift box:  Included
–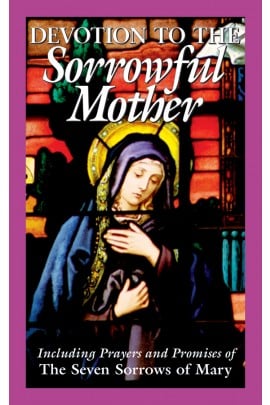 This Chaplet comes with the "Devotion to the Sorrowful Mother" booklet to inspire in you a devotion to these powerful prayers. Many Catholics are unaware of our holy traditions on and powerful devotions to the Sorrows of Mary. Based on Scripture and the lives of the Saints, this little book will open eyes and hearts to the Sorrows of Our Lady.