Description
The Holy Face Chaplet of Reparation is made with Veronica's Veil Holy Face Cross and natural Blue Lace Agate – soft touch and calming elegance gemstone beads, and all sterling silver parts, traditionally wire-wrapped by hand, making this chaplet virtually unbreakable. The Holy Face is a great treasure of a devotion and the chaplet is said for the Triumph of His Holy Church, and the downfall of her enemies.  For more information visit our page about Praying the Chaplet of the Holy Face.
Holy Face Cross / Chaplet of Reparation Parts
---
Beads: Blue Lace Agate, 8 mm (53 beads), and 10 mm (6 beads)
Centerpiece: Scapular 5/8 x 1/2 inches (16mm x 13mm), Sterling Silver .925
Holy Face Cross: 2″ (50,8 mm), Sterling Silver .925
Bead Caps: Sterling Silver .925
Wire: Sterling Silver .925
Method:Wire-wrapped by hand
Total Length:  22.5″ (57 cm)
Gift box:  Included
Additional Product Information Tab contains information pertaining to shipping box dimensions only.
---
The Holy Face Chaplet of Reparation was composed by Sister Saint-Pierre, a Holy Carmelite Nun of Tours, France, given to her by our Lord November 15, 1843.  Saint Athanasius relates that the devils, on being asked what verse in the whole Scripture they feared the most, replied:  "That with which the 67th Psalm commences: Let God arise, and let His enemies be scattered. Let them that hate Him flee from before His face." They added that this always compelled them to take flight.
It is well to recite it every day, in order to obtain from God, by means of the Face of His well beloved Son, the triumph of our mother the Catholic Church, and the downfall of her enemies.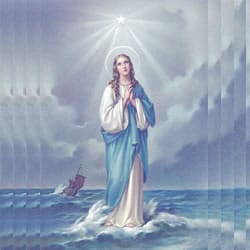 VIRGÓ SACRÁTA is a Christian mission-driven online resource and shop inspired from the beauty of Catholic faith, tradition, and arts. Our mission is to "Restore All Things to Christ!", in continuing the legacy of Pope St. Pius X under the patronage of the Blessed Virgin Mary. "Who is she that cometh forth as the morning rising, fair as the moon, bright as the sun, terrible as an army set in battle array?" O Mary, conceived without sin, pray for us who have recourse to Thee.