Description
Gemstones rosary is made with rare Ice Amazon Stones (grade AAA translucent) genuine natural gemstones, and all sterling silver parts, traditionally wire-wrapped by hand, making the rosary virtually unbreakable. It features the Sun Burst Crucifix. Jesus said: "I am the light of the world: he that followeth me, walketh not in darkness, but shall have the light of life." (John 8:12-14). The Rosary Center is the medal of the of the Immaculate Conception known as the Miraculous Medal, designed by the Blessed Virgin herself! No wonder, then that it wins such extraordinary graces for those who wear it, and pray for Mary's intercession and help.
Sterling Silver Amazonite Gemstones Rosary Parts
Beads: Rare Ice Amazonite Genuine Natural Gemstones, Grade AAA 8mm (53 beads) and 10mm (6 beads).
Rosary Center: The Miraculous Medal 1″ (24 mm), Solid .925 sterling silver.
Crucifix: Dimensions: 2.2″ x 1.5″ (57mm x 38mm). Solid .925 sterling silver.
Hand polished and engraved by New England Silversmiths.
Bead Caps: Sterling Silver
Wire: Sterling Silver
Method: Wire-wrapped by hand
Total Length: 34″ (86 cm)
Gift box: Included
Additional Product Information Tab contains information pertaining to shipping box dimensions only.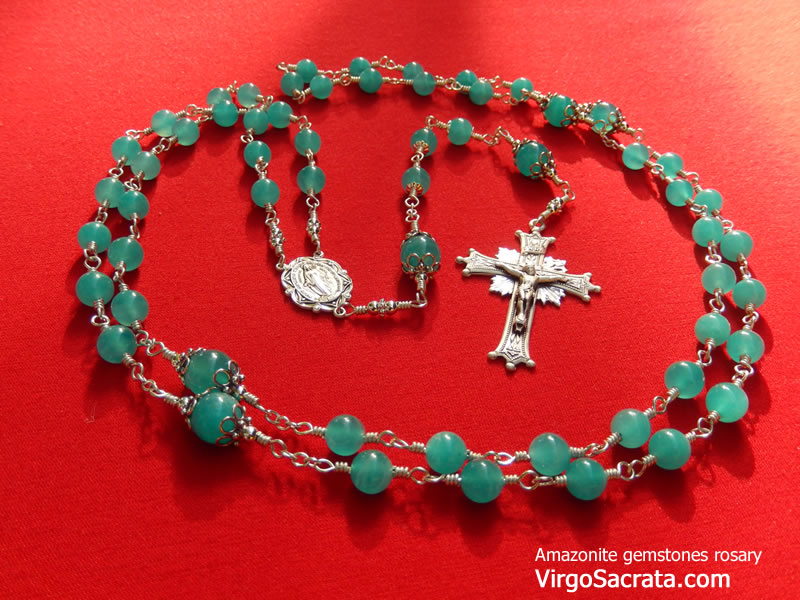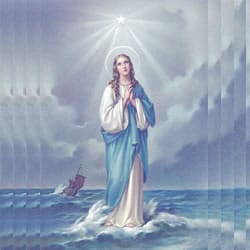 VIRGÓ SACRÁTA is a Christian mission-driven online resource and shop inspired from the beauty of Catholic faith, tradition, and arts. Our mission is to "Restore All Things to Christ!", in continuing the legacy of Pope St. Pius X under the patronage of the Blessed Virgin Mary. "Who is she that cometh forth as the morning rising, fair as the moon, bright as the sun, terrible as an army set in battle array?" O Mary, conceived without sin, pray for us who have recourse to Thee.