Description
Garden Statue of Jesus' Ascension by artist Carlo Bronti. A must have for every Christian Believer and Worshiper. Jesus be Praised Forever! This distinctive piece will speak volumes about your convictions… Famed Italian sculptor Carlo Bronti depicts Christ conquering the cross in this exquisite, over four-foot-high, quality designer resin work. From the rocky crags and rough-hewn wood to the softly gathered robe and upturned palms, this sculptural investment leaves no detail untouched. Simple assembly required.
The Ascension of Christ: A Most Significant Event
"My Kingdom is Not of This World…"
The feast of the Ascension of Our Lord into Heaven is one of the feasts of His Kingship. Our Lord was always a King. Even before He assumed our human nature, He was always the Lord and King of creation….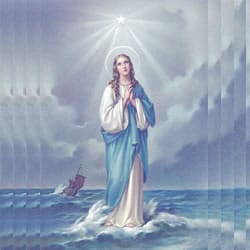 VIRGÓ SACRÁTA is a Christian mission-driven online resource and shop inspired from the beauty of Catholic faith, tradition, and arts. Our mission is to "Restore All Things to Christ!", in continuing the legacy of Pope St. Pius X under the patronage of the Blessed Virgin Mary. "Who is she that cometh forth as the morning rising, fair as the moon, bright as the sun, terrible as an army set in battle array?" O Mary, conceived without sin, pray for us who have recourse to Thee.