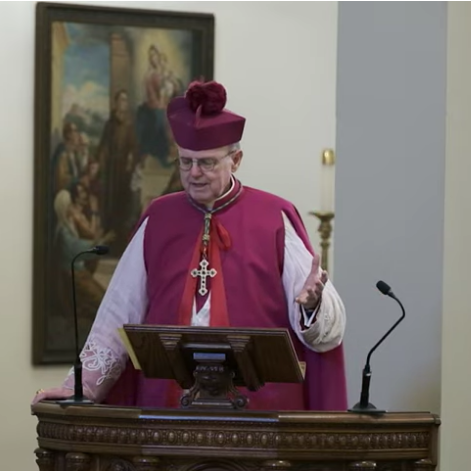 On the Use of the Roman Liturgy Prior to the Reform of 1970
"The devil has always managed to get rid of the Mass by means of the heretics, making them the precursors of the Antichrist who, above all else, will manage to abolish, and in fact will succeed in abolishing, as a punishment for the sins of men, the Holy Sacrifice of the Altar, precisely as Daniel predicted." ~ St Alphonsus Liguori.
Dan 11:31 "And strength was given him against the continual sacrifice, because of sins: and truth shall be cast down on the ground and he shall do and prosper."
Dan 8:12 "The victim & the sacrifice shall fail: and there shall be in the temple the abomination of desolation."
Dan 9:27 "They shall defile the sanctuary of strength, & shall take away the continual sacrifice, & they shall place there the abomination of desolation."
"And the churches, too, will wail with a mighty lamentation, because neither 'oblation nor incense' is attended to, nor a service acceptable to God; but the sanctuaries of the churches will become like a garden-watcher's hut, and the holy Body and Blood of Christ will not be shown in those days. The public service of God shall be extinguished, psalmody shall cease, the reading of the Scriptures shall not be heard; but for men there shall be darkness, and lamentation on lamentation, and woe on woe" St. Hippolytus, Op. cit., pp. 250, 251.
"It is unlawful to alter the established customs of the Church …Remove not the ancient landmarks which thy fathers have set." – St. Peter Damien, Doctor of the Church.

"Let everything that conflicts with ecclesiastical tradition and teaching, and that has been innovated and done contrary to the examples outlined by the saints and the venerable Fathers, or that shall hereafter at any time be done in such a fashion, be anathema." – Second Council of Nicea.

"If anyone rejects any written or unwritten tradition of the Church, let him be anathema." – Second Council of Nicea.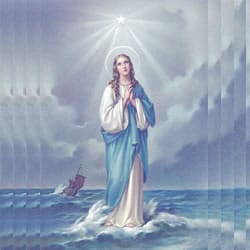 VIRGÓ SACRÁTA is a Christian mission-driven online resource and shop inspired from the beauty of Catholic faith, tradition, and arts. Our mission is to "Restore All Things to Christ!", in continuing the legacy of Pope St. Pius X under the patronage of the Blessed Virgin Mary. "Who is she that cometh forth as the morning rising, fair as the moon, bright as the sun, terrible as an army set in battle array?" O Mary, conceived without sin, pray for us who have recourse to Thee.