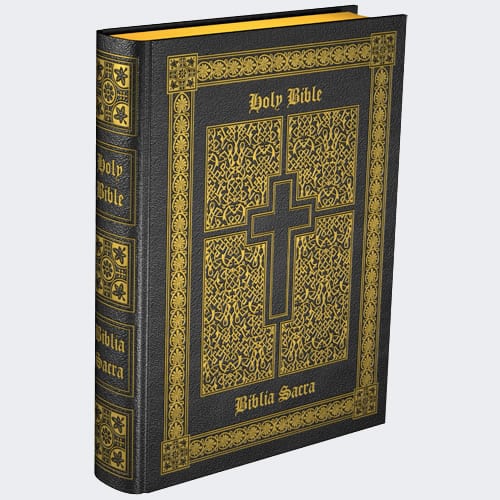 Catholics searching for the traditional Catholic Bible in English should look no further!
In 1546, the Council of Trent affirmed the Latin Vulgate Bible as authentic and declared that "No one (may) dare or presume under any pretext whatsoever to reject it" (4th Session, April 8, 1546). The Douay-Rheims Bible is an English translation of the Latin Vulgate Bible, a version universally used in the Church for over 1500 years, itself precisely translated from the original Hebrew and Greek by St. Jerome (A.D. 340-420).
The Douay-Rheims was completed in 1609, and is therefore older than the King James Version, the oldest Protestant translation still in use, which was published in 1611. The Rheims New Testament was published nearly thirty years earlier, in 1582. Further, the translators of the KJV make specific reference to the Douay Version in their translators' preface. It is commonly acknowledged that, in preparing the KJV, the translators made use of the Rheims New Testament and adopted many of its readings in preference to those of other English editions.
Since it was translated quite literally and with great reverence for each individual word from the Vulgate, which in turn reflects the structure of the original languages very clearly, the Douay-Rheims Bible can give great insight into the minds of the sacred authors.
In 1749-1752, Bishop Challoner, knowing that many English Catholics were reading erroneous Protestant versions of the Bible such as the King James Version (KJV), made major revisions to the Douay-Rheims version, to improve its readability without diminishing its accuracy. The notes, written by Bishop Challoner are entirely faithful to the teachings of the Holy Catholic Church. The revised Douay-Rheims Bible has been approved by the Church many times over, including the approval of Cardinal Gibbons for the 1899 edition that Baronius Press is publishing, and available through the Virgo Sacrata shop.
For over 300 years, the Douay-Rheims Bible was the only Catholic English translation of Scripture used. It continues to be used authoritatively in Catholic churches today.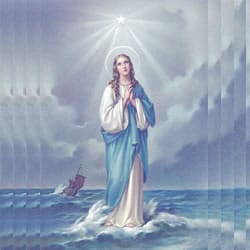 VIRGÓ SACRÁTA is a Christian mission-driven online resource and shop inspired from the beauty of Catholic faith, tradition, and arts. Our mission is to "Restore All Things to Christ!", in continuing the legacy of Pope St. Pius X under the patronage of the Blessed Virgin Mary. "Who is she that cometh forth as the morning rising, fair as the moon, bright as the sun, terrible as an army set in battle array?" O Mary, conceived without sin, pray for us who have recourse to Thee.