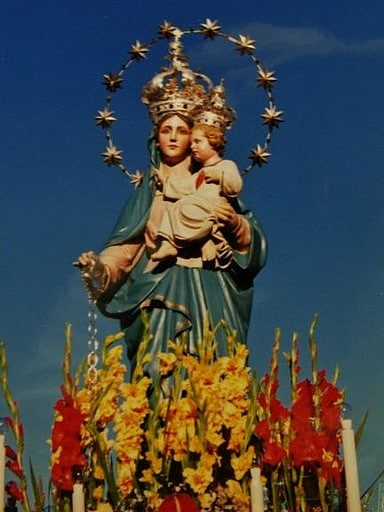 According to St. Jude Shrine in Baltimore, the devotion to Our Lady, venerated under the title of Our Lady of the Chain, had its origin in Palermo, Sicily.

At the end of the fourteenth Century the historian Mongitore, in his book Palermo Devoted to Mary, relates: "In the year 1392, while Martin I reigned over Sicily, three young men were condemned to die on the gallows. While these young men were being conducted under heavy guard to the square of the Marina, where the execution was to take place, the Blessed Virgin Mary came to their assistance, either to protect their innocence, or in answer to their fervent prayers.

For more information about the historical origin of the devotion to Our Blessed Lady of the Chain, please check the Marian Library of the University of Dayton.
Novena to Our Blessed Lady of the Chain
O Blessed Lady of the Chain,
sweet hope, eternal comfort
of those who with confidence call upon you;
prostrate at your feet,
I profess my misery and nothingness.
You who are the Queen of Heaven and earth;
the Mother of Our Divine Saviour;
O you who are so powerful before the throne of God,
please, obtain for me this favour which I need so much.
May the many favours and graces
which you obtain daily from Jesus
for those who invoke you
under the title of Mother of the Chain,
encourage me to have recourse to you
and present to your maternal heart all my afflictions.
O powerful Virgin,
break the chains of sin which hold me fast.
Destroy the snares of my spiritual and temporal enemies,
chain me close to you
and to Jesus with a lively faith,
a firm hope,
and a burning charity.
Encircle me with your chains and thus,
unite me to your heart.
United in such a way to you and to Jesus,
I will fear nothing.
There will be no doubt of my eternal salvation,
no fear of not being granted
all the temporal and spiritual blessings
I need to lead a devout life.
Since I am in need of help in this present affliction,
O loving Mother,
I have recourse to you with childlike faith;
and thus, I hope
to obtain the favor I am now asking.
[State your intentions here.]
I am sure that you will grant me my request
with that same love with which you did
grant the request of the three prisoners.
I am confident you will grant this favour
through your merits
and the merits of your Divine Son
and allow me to return soon
to render to you the homage of my praises
and grateful thanksgivings.
Amen
Hail Holy Queen
Hail, holy Queen, Mother of mercy, hail, our life, our sweetness and our hope.
To thee do we cry, poor banished children of Eve:
to thee do we send up our sighs, mourning and weeping in this vale of tears.
Turn then, most gracious Advocate, thine eyes of mercy toward us,
and after this our exile, show unto us the blessed fruit of thy womb, Jesus,
O merciful, O loving, O sweet Virgin Mary!
Amen.
(Published by St. Jude Shrine, Paca & Saratoga Streets, Baltimore, MD 21201.)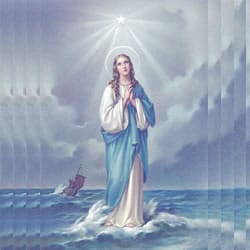 VIRGÓ SACRÁTA is a Christian mission-driven online resource and shop inspired from the beauty of Catholic faith, tradition, and arts. Our mission is to "Restore All Things to Christ!", in continuing the legacy of Pope St. Pius X under the patronage of the Blessed Virgin Mary. "Who is she that cometh forth as the morning rising, fair as the moon, bright as the sun, terrible as an army set in battle array?" O Mary, conceived without sin, pray for us who have recourse to Thee.