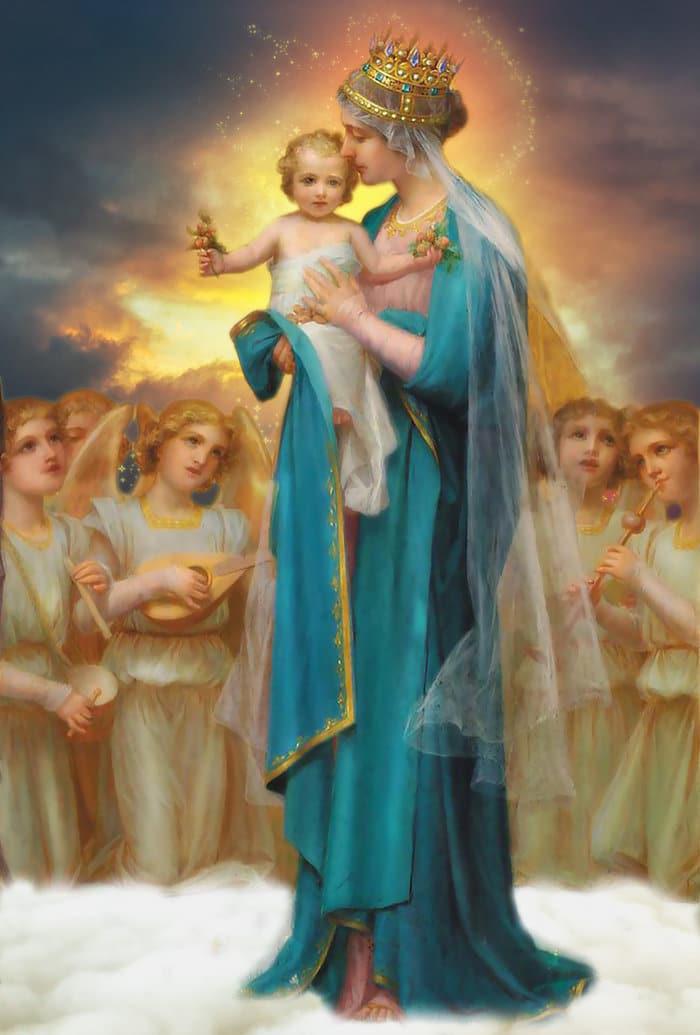 Supplications and Resolutions for the New Year
O Eternal Father, after having thanked thy infinite bounty for thy exceeding benefits in the past, we humbly implore pardon for our manifold sins and negligences, for the time we have consumed and wasted in vanities and in things that profit not unto salvation, and for the woeful want of correspondence with Thy graces which we have so habitually manifested.
But filled with confidence in Thy mercy, so lavishly displayed in a multitude of ways, we ask Thy blessings upon our good purposes and resolutions. For now we renew the sacred promises we made in Baptism, when we first became Thy children and heirs of the heavenly kingdom, and we renounce Satan with all his works and pomps.
Firmly convinced that the salvation of our immortal souls is the one great business of life, the purpose for which we have come into the world, we solemnly resolve for the future not only to do all in our power to avoid every grievous sin in thought, word, and deed but also to shun every unnecessary occasion that might imperil our souls.
We further resolve to fulfill with greater exactness and fidelity the duties of our station in life, to give more attention to our progress in things spiritual, to be more devoted to holy Mass, to receive the Sacraments more frequently, and to pray more often and more fervently.
Bless, O my God, these good resolutions which we offer to Thee at this, the threshold of a new year. Give us Thy precious grace and make us truly wise. The days and years of our life are passing so swiftly away. Help us, in Thy mercy, to utilize them, as we ought to do, for Thy greater honor and glory, for the good of our neighbor, and for our sanctification.
The night cometh in which no man can work longer; soon, at best, we shall have to appear before Thee to render an account of our stewardship. May we then be found worthy to receive from Thee that divine welcome: "Well done, good and faithful servants, enter into the joy of thy Lord."
Prayer to Consecrate the New Year to Jesus
O Sweet Savior of my Soul!
From the depths of my heart I salute Thee at the beginning of this year.
O my Infant Savior, I most confidently approach Thy crib
and implore Thee to give efficacy by Thy Precious Blood to the resolutions I now make,
of living from this moment in the manner I shall wish to have done
when time shall be about to close forever on me.
May each action of the coming year be offered in union with the adorable actions of Thy mortal life;
may every intention be renounced save that of laboring for Thy love and glory.
O merciful Jesus!
By the helplessness of Thy Holy Infancy,
strengthen my weakness and fortify my resolution
nevermore to offend Thee.
Amen
---
Plenary Indulgence Reminder:
Te Deum laudamus
A plenary indulgence is granted to the Christian faithful who, in a church or in an oratory, are present [take part] in a recitation or solemn chant of the "TE DEUM" Hymn, on the last day of the year, in thanksgiving to God for the favors received in the course of the entire year.
By Benedictine Monks of the Abbey of St. Maurice & St. Maur, Clevaux.

Te Deum laudamus in Latin and English
| | |
| --- | --- |
| TE DEUM laudamus: te Dominum confitemur. | O GOD, we praise Thee: we acknowledge Thee to be the Lord. |
| Te aeternum Patrem omnis terra veneratur. | Everlasting Father, all the earth doth worship Thee. |
| Tibi omnes Angeli; tibi Caeli et universae Potestates; | To Thee all the Angels, the Heavens and all the Powers, |
| Tibi Cherubim et Seraphim incessabili voce proclamant: | all the Cherubim and Seraphim, unceasingly proclaim: |
| Sanctus, Sanctus, Sanctus, Dominus Deus Sabaoth. | Holy, Holy, Holy, Lord God of Hosts! |
| Pleni sunt caeli et terra maiestatis gloriae tuae. | Heaven and earth are full of the Majesty of Thy glory. |
| Te gloriosus Apostolorum chorus, | The glorious choir of the Apostles, |
| Te Prophetarum laudabilis numerus, | the wonderful company of Prophets, |
| Te Martyrum candidatus laudat exercitus. | the white-robed army of Martyrs, praise Thee. |
| Te per orbem terrarum sancta confitetur Ecclesia, | Holy Church throughout the world doth acknowledge Thee: |
| Patrem immensae maiestatis: | the Father of infinite Majesty; |
| Venerandum tuum verum et unicum Filium; | Thy adorable, true and only Son; |
| Sanctum quoque Paraclitum Spiritum. | and the Holy Ghost, the Comforter. |
| Tu Rex gloriae, Christe. | O Christ, Thou art the King of glory! |
| Tu Patris sempiternus es Filius. | Thou art the everlasting Son of the Father. |
| Tu ad liberandum suscepturus hominem, non horruisti Virginis uterum. | Thou, having taken it upon Thyself to deliver man, didst not disdain the Virgin's womb. |
| Tu, devicto mortis aculeo, aperuisti credentibus regna caelorum. | Thou overcame the sting of death and hast opened to believers the Kingdom of Heaven. |
| Tu ad dexteram Dei sedes, in gloria Patris. | Thou sitest at the right hand of God, in the glory of the Father. |
| Iudex crederis esse venturus. | We believe that Thou shalt come to be our Judge. |
| Te ergo quaesumus, tuis famulis subveni: quos pretioso sanguine redemisti. | We beseech Thee, therefore, to help Thy servants whom Thou hast redeemed with Thy Precious Blood. |
| Aeterna fac cum sanctis tuis in gloria numerari. | Make them to be numbered with Thy Saints in everlasting glory. |
| V. Salvum fac populum tuum, Domine, et benedic hereditati tuae. | V. Save Thy people, O Lord, and bless Thine inheritance! |
| R. Et rege eos, et extolle illos usque in aeternum. | R. Govern them, and raise them up forever. |
| V. Per singulos dies benedicimus te. | V. Every day we thank Thee. |
| R. Et laudamus nomen tuum in saeculum, et in saeculum saeculi. | R. And we praise Thy Name forever, yea, forever and ever. |
| V. Dignare, Domine, die isto sine peccato nos custodire. | V. O Lord, deign to keep us from sin this day. |
| R. Miserere nostri, Domine, miserere nostri. | R. Have mercy on us, O Lord, have mercy on us. |
| V. Fiat misericordia tua, Domine, super nos, quemadmodum speravimus in te. | V. Let Thy mercy, O Lord, be upon us, for we have hoped in Thee. |
| R. In te, Domine, speravi: non confundar in aeternum. | R. O Lord, in Thee I have hoped; let me never be confounded. |
Gratias agimus tibi, omnipotens Deus, pro universis beneficiis tuis, qui vivis et regnas in saecula saeculorum. Amen.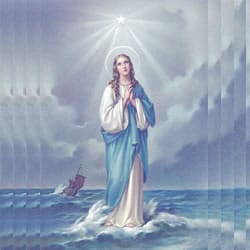 VIRGÓ SACRÁTA is a Christian mission-driven online resource and shop inspired from the beauty of Catholic faith, tradition, and arts. Our mission is to "Restore All Things to Christ!", in continuing the legacy of Pope St. Pius X under the patronage of the Blessed Virgin Mary. "Who is she that cometh forth as the morning rising, fair as the moon, bright as the sun, terrible as an army set in battle array?" O Mary, conceived without sin, pray for us who have recourse to Thee.