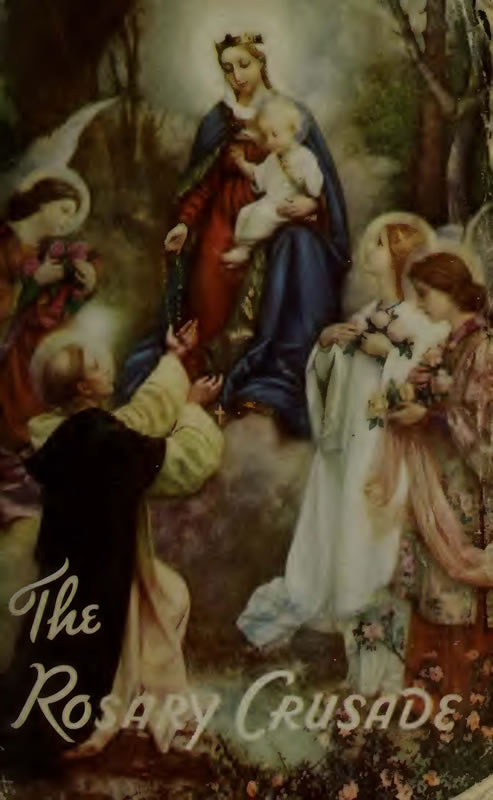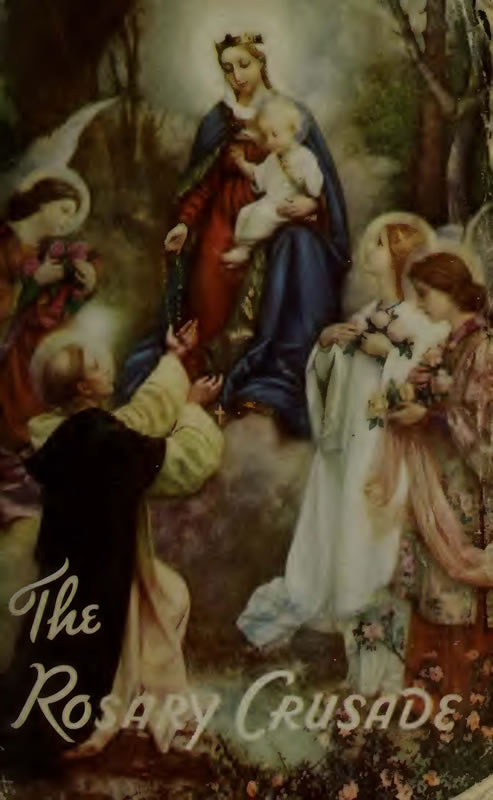 This Rosary Crusade booklet is dedicated to Mary, Queen of the Holy Rosary, and to you, Catholic citizens of the United States of America. Its purpose is to invite you to join a Rosary Crusade by saying the Rosary every day for the shortening of the most destructive war in history.
Our beloved country was dedicated to Mary Immaculate in 1847. That is to say that the Holy Ghost, through the voice of the American Bishops united in Council at Baltimore, gave to this nation the Mother of God as its principal Patron.
In times of crisis, a mother rushes to her offspring. A mother bird appears on the scene when her nest is approached. A mother beast defends her young with life itself. A human mother darts into a burning home to save her child. So Mary, Mother of mankind, will protect those who have recourse to her through her favorite prayer, the Rosary.
Mary is stronger than an army in battle, because Jesus, Lord of hosts, refuses His Mother nothing. When the tyrant Herod sought the life of the Divine Infant, Mary took the God of nations into her protecting arms, and fled with Him into Egypt. She is divinely chosen likewise, to protect those nations which recommend themselves to the Lord.
Mary's title "Queen of Peace" is a reward for service rendered in war. When the greatest battle in history was being waged on the rock of Calvary, the powers of darkness seemed to triumph, devils joined forces with brutal soldiers, but Mary, valiant woman, stood her ground. Jesus, our Commander-in-Chief, was fighting to the death. Mary, selfless Mother, did not ask Him to surrender. She bade Him win. She encouraged Him on to victory. She too was marked with the wounds of battle. Her motherly heart was pierced with a sword of sorrow, but she emerged victorious, Queen of Martyrs, Queen of Peace.
It is Mary's will to bring us peace, with Jesus. Jesus come into the world through Mary. The hearts of men must first be converted to charity and justice by a crusade of prayer and penance. That is the purpose of a Rosary Crusade to Mary. "When we have once found Mary and by Mary Jesus, and by Jesus God the Father, we have found all good things," says Blessed De Montfort.
A Rosary Crusade will bring spiritual victory in the present conflict, if Mary's orders are obeyed. Those orders were given in the last World War when our heavenly general at Fatima repeatedly bade the shepherd children to say the Rosary, to preach a crusade by word and example, for the purpose of obtaining an early peace. She assured them that she would obtain peace and blessings for the world, if men would heed the lessons of the Rosary. Since wars are caused by unbelief, selfishness, immorality, and revolt against God, a spiritual weapon is needed. That weapon is the Rosary, a very powerful armor against hell. The American Catholic can confidently say of the Rosary what David said of the sword of Goliath: "There is no sword like it. Give it me." (I Kings, 21 :9)
Because Mary has promised that through the Rosary sinners will be converted and the just will grow in grace, devout Catholics should recite the Rosary for the conversion of sinners who draw down the punishment of God and the scourge of war. St. Charles Borromeo used to soy, during his holy war against heresy, "I rely almost entirely upon the Rosary for the conversion and sanctification of my people."
The Rosary will foster religion, humility, and personal purity in these days, when weak souls lose th in God at the sight of the misery of nations.
---
Source: "The Rosary Crusade", click on the link to download this booklet.
Published by NATIONAL HEADQUARTERS HOLY NAME SOCIETY
Nihil Obstat
VINCENT D. DOLAN, O.P., S.T.Lr.
FREDERICK C. FOLEY, O.P., M.A.
Imprimi Potest
T. S. McDERMOTT, O.P., S.T.Lr., LLD.
Prior Provincial
Nihil Obstat
ANTHONY N. FUERST, S.T.D.
Censor Librorum
Imprimatur:
✞ EDWARD F. HOBAN, S.T.D.
Episcopus-Coadjutor Clevelandensis
August 4, 1943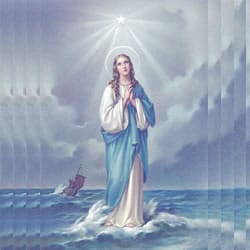 VIRGÓ SACRÁTA is a Christian mission-driven online resource and shop inspired from the beauty of Catholic faith, tradition, and arts. Our mission is to "Restore All Things to Christ!", in continuing the legacy of Pope St. Pius X under the patronage of the Blessed Virgin Mary. "Who is she that cometh forth as the morning rising, fair as the moon, bright as the sun, terrible as an army set in battle array?" O Mary, conceived without sin, pray for us who have recourse to Thee.