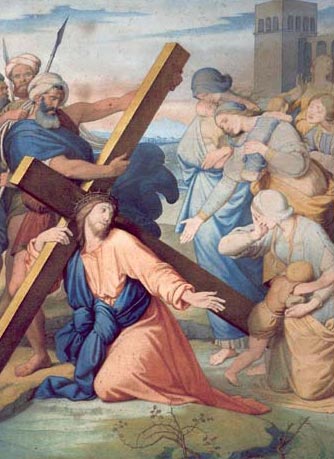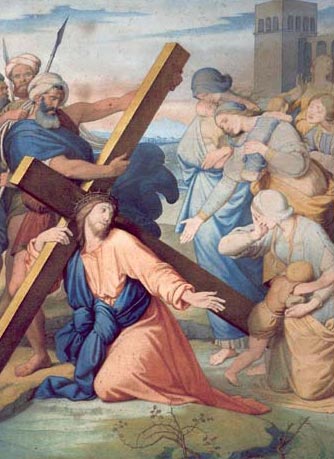 "And there followed him a great multitude of people, and of women, who bewailed and lamented him.

But Jesus turning to them, said: Daughters of Jerusalem, weep not over me; but weep for yourselves, and for your children.

For behold, the days shall come, wherein they will say: Blessed are the barren, and the wombs that have not borne, and the paps that have not given suck.

Then shall they begin to say to the mountains: Fall upon us; and to the hills: Cover us. For if in the green wood they do these things, what shall be done in the dry?" (Luke 23:27-32 Douay-Rheims 1899)
Extract from «Filiæ mæstæ Jerusalem» RV 638, Part II: Sileant Zephyri
Filiæ mæstæ Jerusalem is the first of two introduzioni written to come before a setting of the Miserere. The Miserere itself is presumed to be lost. RV 638 consists of two recitatives around a single aria. This text concerns sad daughters of the Jerusalem after the death of Jesus Christ and the mourning of nature itself.
I. Filiæ mæstæ Jerusalem,
en Rex universorum,
Rex vester vulneratus
et spinis coronatus;
ut maculas detergat peccatorum
factus est Rex dolorum.
Ecce moritur vita
in durissima cruce;
ecce videte et non eam
sed nos potius lugete;
at nequis reprobare vestros fletus
immo lugeant vobiscum
omnia insensata, plorent
plorent cuncta creata.
I. Mournful daughters of Jerusalem,
Behold the King of all,
Thy King wounded
And crowned with thorns;
To cleanse away the stains of sin
The King of sorrows he was made.
Behold Life expiring
Upon the bitter cross.
Behold, look, and weep for us
And not the cross.
Let no one reprove your tears,
Let everyone grieve with you,
Let all things inanimate lament,
Let creatures all lament..
II. Sileant zephyri
rigeant prata,
unda amata,
frondes, flores non satientur.
Mortuo flumine,
proprio lumine luna
et sol etiam priventur.
II. Let the winds be rendered numb,
Let the fields freeze over,
Let the longed-for rains
Water not the leaves and flowers.
The river is dead,
Of their light
The moon and the sun are deprived.
Sed tenebris diffusis
obscuratus est sol,
scinditur quoque velum,
ipsa saxa franguntur
et cor nostrum non frangit vis doloris?
At dum satis non possumus dolere
tu nostri bone Jesu, miserere.
But as shadows spread
The sun is dulled,
And the veil is rent,
The very rocks are splintered,
And does not grief our hearts break?
But while our grief cannot be deep enough,
Oh, good Jesus, have mercy on us.
NOTE: "The Introduzione is a fairly unusual form of which we have few examples. Two of them were written for a Miserere in C-minor which unfortunately has not survived. The Motet "Filiae maestae Jerusalem" is made up of an aria (Sileant Zephiri; Largo 3/4 time, F-minor) in three-part form, a lyric, rhythmic dialogue between voice and orchestra, framed by two accompanied recitativos. The first of these is expressively accented over long, solemn, movingly held chords, suggesting the weeping of the Daughters of Jerusalem and of all creation at the memory of Christ's suffering."
SOURCES: " Filiæ mæstæ Jerusalem" (Recitativo . Aria – Recitativo) Introduzione al Miserere per Alto, due violini, viola e basso (RV 638) Bibliothèque Nationale, Giordano, Turin, M.S. 33 (f. 54-59)
Sleeve Notes – Vivaldi Sacred Music, Vol. 2″ Michael Talbot. 1996. Hyperion Records.
Filiæ mæstæ Jerusalem, RV 638 sheet music for solo, complete score instrumental parts can be downloaded from the International Music Score Library Project (IMSLP).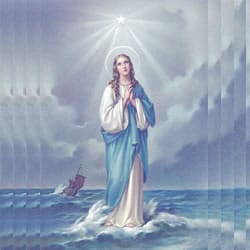 VIRGÓ SACRÁTA is a Christian mission-driven online resource and shop inspired from the beauty of Catholic faith, tradition, and arts. Our mission is to "Restore All Things to Christ!", in continuing the legacy of Pope St. Pius X under the patronage of the Blessed Virgin Mary. "Who is she that cometh forth as the morning rising, fair as the moon, bright as the sun, terrible as an army set in battle array?" O Mary, conceived without sin, pray for us who have recourse to Thee.