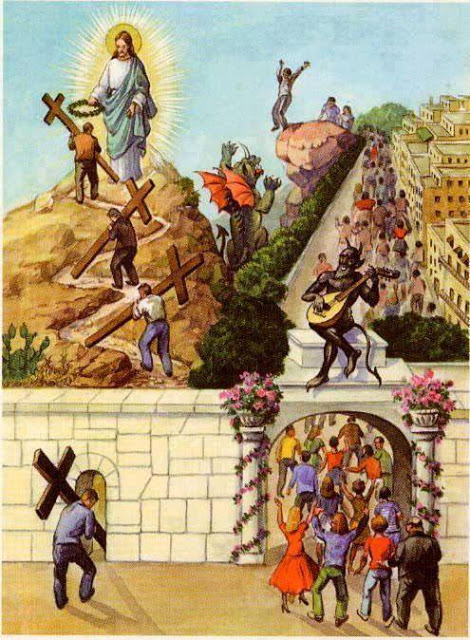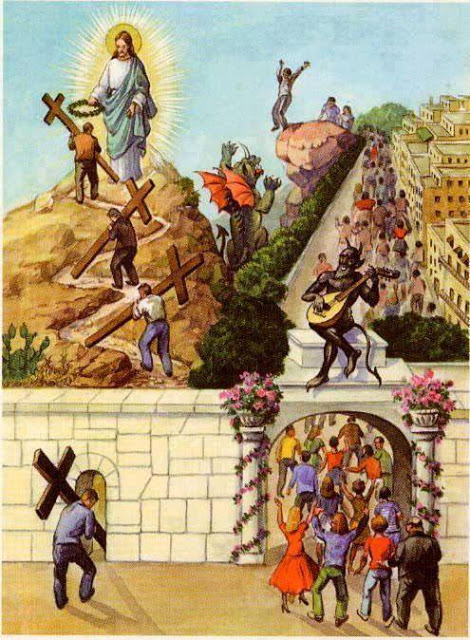 "Enter ye in at the narrow gate: for wide is the gate, and broad is the way that leadeth to destruction, and many there are who go in thereat". Matthew 7:13
The doctrine of these two verses needs no commentary, but deserve serious attention.
Unfortunately, the world has all but forgotten why Christ even died on the Cross, so maybe Lent is the time to get it right. The truth is that Christ's Sacrifice didn't actually *earn our salvation, since salvation is gained by merit. "For the Son of man shall come in the glory of his Father with his angels: and then will he render to every man according to his works." (Matthew 16:27)
Christ's Sacrifice rather earned us the opportunity for salvation, i.e. it opened the gates of Heaven and purchased for us his Church with all its helps and graces, but we still need to do our part to "fill up those things that are wanting of the sufferings of Christ." (Colossians 1:24)
The Royal Road of the Cross by Thomas à Kempis
There will always be many who love Christ's heavenly kingdom, but few who will bear his cross. Many are eager to be happy with him; few wish to suffer anything for him.
Many love Christ as long as they encounter no hardship; many praise and bless him as long as they receive some comfort from him. But if Jesus hides himself and leaves them for a while, they either start complaining or become dejected. Those, on the contrary, who love him for his own sake and not for any comfort of their own, praise him both in trial and anguish of heart as well as in the bliss of consolation. Even if Jesus should never comfort them, they would continue to praise and thank him. What power there is in a pure love for Jesus – love that is free from all self-interest and self-love!
Do not those who always seek consolation prove that they love themselves rather than Christ? Where can we find anyone who is willing to serve God for nothing? Such a person is worth far more than the jewels brought from the most distant lands.
Take up your cross and follow Jesus, and you will inherit everlasting life. There is no other way to life and to true inward peace than the way and discipline of the cross. Go where you will, seek what you want, you will not find a higher way, nor a less exalted but safer way, than the way of the cross. Arrange and order everything to suit your desires and you will still have to bear some kind of suffering, willingly or unwillingly.
The cross, therefore, is unavoidable. It waits for you everywhere. No matter where you may go, you cannot escape it, for wherever you go you take yourself along. Turn where you will – above, below, without, or with­in – you will find the cross.
If you willingly carry the cross, it will carry you. It will take you to where suffering comes to an end, a place other than here. If you carry it unwillingly, you create a burden for yourself and increase the load, though still you have to bear it. If you try to do away with one cross, you will find another and perhaps a heavier one. How do you expect to escape what no one else can avoid? Which saint was exempt? Not even Jesus Christ was spared. Why is it that you look for another way other than the royal way of the holy cross?
The whole life of Christ was a cross. And the more spiritual progress you strive for, the heavier will your crosses become, for as your love for God increases so will the pain of your exile.
When you willingly carry your cross, every pang of tribulation is changed into hope of solace from God. Besides, with every affliction the spirit is strengthened by grace. For it is the grace of Christ, and not our own virtue, that gives us the power to overcome the flesh and the world. You will not even fear your enemy, the devil, if you arm yourself with faith and are signed with the cross of Christ.
Decide then, like a good and faithful servant of Christ, to bear bravely the cross of your Lord. It was out of love that he was crucified for you. Drink freely from the Lord's cup if you wish to be his friend. Leave your need for consolation to God. Let him do as he wills. On your part, be ready to bear sufferings and consider how in these sufferings lies your greatest consolation. The sufferings of this life are not worthy to be compared with the glory to come.
When you get to the point where for Christ's sake suffering becomes sweet, consider yourself fortunate, for you have found paradise on earth.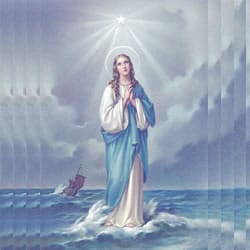 VIRGÓ SACRÁTA is a Christian mission-driven online resource and shop inspired from the beauty of Catholic faith, tradition, and arts. Our mission is to "Restore All Things to Christ!", in continuing the legacy of Pope St. Pius X under the patronage of the Blessed Virgin Mary. "Who is she that cometh forth as the morning rising, fair as the moon, bright as the sun, terrible as an army set in battle array?" O Mary, conceived without sin, pray for us who have recourse to Thee.