Description
Through its vivid portrayal of the Passion of Christ, this Contemplative Journey to Calvary prompts the Reader to step back in time to re-live the events along the Via Dolorosa (referred to by devout Christians as the Fourteen Stations of the Cross).
"What I learned from this book has forever changed, deepened and enriched my understanding of the complete sacrifice Christ made for us – for me. Because of this book, I will never be the same again. I thank E. Mary Christie from the bottom of my heart for writing this book. I loaned a copy to a dear friend, the Bible Study leader at our church. He was so taken with what he found in this book that he read it through about six times. We have shared this book with others who have gone on to get their copies and share them with more people. I firmly believe that this book should be a required reading for all Christians." – Gail Ross, illustrator & author, Black Forest Friends series, Colorado Springs, CO.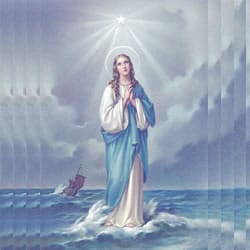 VIRGÓ SACRÁTA is a Christian mission-driven online resource and shop inspired from the beauty of Catholic faith, tradition, and arts. Our mission is to "Restore All Things to Christ!", in continuing the legacy of Pope St. Pius X under the patronage of the Blessed Virgin Mary. "Who is she that cometh forth as the morning rising, fair as the moon, bright as the sun, terrible as an army set in battle array?" O Mary, conceived without sin, pray for us who have recourse to Thee.