Description
Triptych of the Virgin Mary
---
The Triptych of the Virgin Mary is cast in quality designer resin with a faux bronze finish.   Our Virgin Mary statue hinges open to reveal all the Blessed Mother held in her heart. The center pieta depicts Christ's ultimate sacrifice while side panels show the Holy Mother's submission to God and the Sacred Heart of Jesus. All rise toward a cathedral framework that rests safely above the conquered snake of Satan.
The triptych form arises from early Christian art, and was a popular standard format for altar paintings from the Middle Ages on-wards. Its geographical range was from the eastern Byzantine churches to the Celtic churches in the west. Triptych forms also allow ease of transport.
Our religious statues also include Mary statues by great masters such as Michelangelo and his Pieta, Our Lady of Grace, the Good Shepherd and Lady of Guadalupe.  These Catholic statues have significant meaning, with beautiful and delicate details and features, that will inspire devotion to the Sacred Heart of Mary in your home.  Please also search our site for related keywords such as Mary Statues, Images of Mary, Our Lady of Grace, Our Lady of Guadalupe, Pilgrim Virgin, Sorrowful Mother, Our Lady of Fatima, Virgin Mary.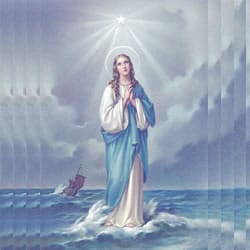 VIRGÓ SACRÁTA is a Christian mission-driven online resource and shop inspired from the beauty of Catholic faith, tradition, and arts. Our mission is to "Restore All Things to Christ!", in continuing the legacy of Pope St. Pius X under the patronage of the Blessed Virgin Mary. "Who is she that cometh forth as the morning rising, fair as the moon, bright as the sun, terrible as an army set in battle array?" O Mary, conceived without sin, pray for us who have recourse to Thee.