Tradivox volume 1 features Catechism of Bonner, Vaux, and Ledesma
What's in Volume 1: Three shorter catechisms (often called "penny" catechisms) of 16th century England are reproduced in this inaugural volume, including "An Honest Godlye Instruction" by Bp. Edmund Bonner (1556), "A Catechisme of Christian Doctrine" by Fr. Laurence Vaux (1567), and "The Christian Doctrine" by Fr. Diego de Ledesma (1573). The perennial Catholic doctrine presented by these authors is refreshingly clear, simple, and beautifully illustrated by both the superb diction and restored medieval woodcuts that adorn the pages.
Catechisms of the Catholic Church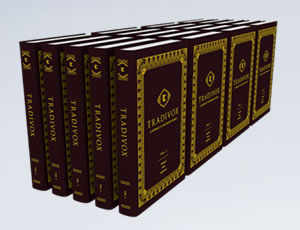 From the brief "penny" catechisms of the 16th century to our own late 20th-century Catechism, scores of faithful priests, bishops, popes, saints, and even Church Councils have for Catholics young and old published succinct, reliable summaries of our Church's perennial teachings: catechisms.
In them, readers have encountered Catholic doctrine presented in refreshingly clear and even elegant language, often accompanied by handsome woodcuts on lovely pages.
Now, for the first time ever, dozens of historic catechisms are being unearthed and painstakingly restored. They are being reformatted for publication and presented to you in this gorgeous 20-volume, cross-indexed collection.
Ranging from the 1200s to the mid-1900s, the many historical catechisms of Catholic doctrine featured in this series include both titles that are well known, as well as some that have not been printed or read in centuries.
Originating from regions as diverse as Italy, France, Germany, Spain, England, Ireland, Scotland, Canada, and North America, the many catechisms contained in this series demonstrate the remarkable universality of the Catholic Faith as never before.
The catechisms of several Popes and Church Councils are included; such as the world-renowned Catechism of the Council of Trent and Pope St. Pius V, those of the Synods of Maynooth and Baltimore, and the catechism of Pope St. Pius X. Here also are those classical handbooks of Catholic doctrine authored by the great Saints and Doctors of the Church, St. Thomas Aquinas, St. Peter Canisius, and St. Robert Bellarmine.
"I invite the faithful of the entire world to support this historic effort, as we seek to restore the perennial Catechism of the Church." ~ Bishop Athanasius Schneider
PLEASE NOTE:  Only Volume 1 has been printed at this time. All other volumes will be printed in 2021.