Description
Arvo Pärt's music is deeply rooted in his profound faith and aims to touch the soul. The expressive beauty and clarity of his music shines through the joyful setting and dance-like rhythms of Peace Upon You Jerusalem and the glorious setting of Mary's words in the Magnificat. His masterful setting of L'abbé Agathon sets the scene of this ancient 4th century story of the chance (or was it?) meeting of the hermit Agathon and a leper. After several testings of the hermit's patience and his generosity, the leper reveals himself to be an angel, and blesses the hermit Agathon and goes on his way. The final work is one of Arvo Pärt's largest choral works—Stabat Mater, written to express the passion, agony and love of Mary at the foot of the cross of her son. Each stanza is set in a contrasting style with instrumental interludes that weaves a texture expressing the text and Mary's desire to stand with her son through his passion at the cross.
Stabat Mater Choral Works by Arvo Pärt
1. Peace upon You, Jerusalem
2. L'abbé Agathon
3. Salve Regina
4. Magnificat
5. Nunc dimittis
6. Stabat Mater
"A true meeting of East and West." ~ OrthoChristian.com (Russia)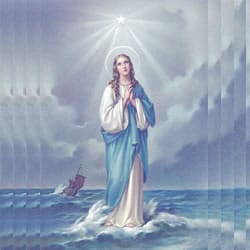 VIRGÓ SACRÁTA is a Christian mission-driven online resource and shop inspired from the beauty of Catholic faith, tradition, and arts. Our mission is to "Restore All Things to Christ!", in continuing the legacy of Pope St. Pius X under the patronage of the Blessed Virgin Mary. "Who is she that cometh forth as the morning rising, fair as the moon, bright as the sun, terrible as an army set in battle array?" O Mary, conceived without sin, pray for us who have recourse to Thee.