Description
Antique stone finish statue of Saint Jude 26″ tall. St Jude is also known as Judas Thaddaeus. St. Jude is the Patron Saint of Hope and impossible causes and one of Jesus' original twelve Apostles.
Saint Jude's attribute is a club. He is also often shown in icons with a flame around his head. This represents his presence at Pentecost, when he received the Holy Spirit with the other apostles. Another common attribute is Jude holding an image of Jesus Christ, in the image of Edessa. In some instances, he may be shown with a scroll or a book (the Epistle of Jude) or holding a carpenter's rule.
This statue is made to order and customized with your finish choice. All finishes may vary throughout production due to their hand-painted application. Antique stone statue of St Jude statue will take 5-8 weeks for production and delivery.
By mastering the art of casting our products in fiberglass resin we manage to retain all the detail or the original with the added benefits of less weight (reduced shipping costs), greater strength, and a product suitable for indoor and outdoor use.
Please feel free to contact us with any questions you may have, otherwise shop in confidence – we deliver directly from manufacturing plant to lower overall costs of our beautiful statues.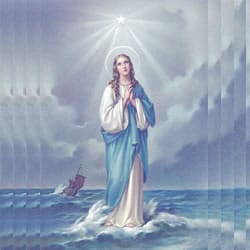 VIRGÓ SACRÁTA is a Christian mission-driven online resource and shop inspired from the beauty of Catholic faith, tradition, and arts. Our mission is to "Restore All Things to Christ!", in continuing the legacy of Pope St. Pius X under the patronage of the Blessed Virgin Mary. "Who is she that cometh forth as the morning rising, fair as the moon, bright as the sun, terrible as an army set in battle array?" O Mary, conceived without sin, pray for us who have recourse to Thee.