Description
The Brigittine Rosary was instituted and propagated by St. Bridget of Sweden. The six-decade rosary, or Brigittine beads, is traditional in the Discalced Carmelite Order as part of the habit.  The reason for its adoption, and attached prayers are found in the following explanation of Brigittine beads. The Brigittine Rosary was richly indulgenced by Pope Leo X in 1515, by Clement XI in 1716, and by Benedict XIV in 1743.
Sterling Silver Brigittine Rosary Rosary Parts
Beads: Genuine Aquamarine Semiprecious Stone Grade AAA (Brazil) 8 mm (63 beads), and 10 mm (7 beads)
Rosary Center: 3/4″ (19 mm), Sterling Silver .925
Crucifix: 2.3″ x 1.5″ (58mm X 39 mm), Sterling Silver .925
Medal: St Bridget of Sweden, Sterling Silver .925
Bead Caps: Sterling Silver
Wire: Sterling Silver
Method:  Wire-wrapped by hand
Total Length:  41″ (104 cm)
Gift box:  Included
Additional Product Information Tab contains information pertaining to shipping box dimensions only
The Brigittine Rosary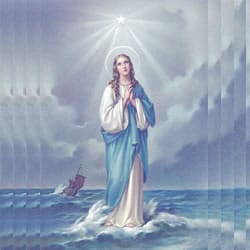 VIRGÓ SACRÁTA is a Christian mission-driven online resource and shop inspired from the beauty of Catholic faith, tradition, and arts. Our mission is to "Restore All Things to Christ!", in continuing the legacy of Pope St. Pius X under the patronage of the Blessed Virgin Mary. "Who is she that cometh forth as the morning rising, fair as the moon, bright as the sun, terrible as an army set in battle array?" O Mary, conceived without sin, pray for us who have recourse to Thee.