Description
 Santa Maria de Guadalupe Statue for your Home or Church
---
This exclusive, vibrantly-hued Virgin Mary religious statue is complete with folded hands and bower of roses characteristic of the original. As a garden statue for your lawn or as an indoor sculpture in a quiet place of meditation, Our Lady of Guadalupe is rich with sacred history. Her image has been used throughout Mexican history, not only as a religious icon but also as a sign of patriotism. Miguel Hidalgo used her image when he launched his revolt against the Spanish in 1810. She could be seen on the rebels' banners and their battle cry was "Long Live Our Lady of Guadalupe." Emiliano Zapata also carried a banner of the Virgen of Guadalupe when he entered Mexico City in 1914.
Celebrate Our Lady of Guadalupe Day
Public celebrations, or fiestas, are held in honor of Mary, the Virgin of Guadalupe, on December 12.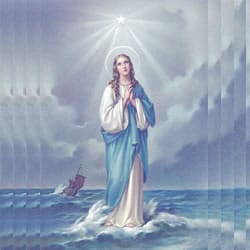 VIRGÓ SACRÁTA is a Christian mission-driven online resource and shop inspired from the beauty of Catholic faith, tradition, and arts. Our mission is to "Restore All Things to Christ!", in continuing the legacy of Pope St. Pius X under the patronage of the Blessed Virgin Mary. "Who is she that cometh forth as the morning rising, fair as the moon, bright as the sun, terrible as an army set in battle array?" O Mary, conceived without sin, pray for us who have recourse to Thee.