Description
The Sacred Heart of Jesus Rosary is made with garnet semiprecious gemstones and all sterling silver rosary parts, traditionally wire-wrapped by hand, making the rosary virtually unbreakable. The rosary center depicts the Sacred Heart of Jesus on one side, and Our Lady of Perpetual Help on the reverse.
Sacred Heart of Jesus Rosary Parts
---
Beads: Genuine Garnet Gemstones, 8 mm (53 beads), and 10 mm (6 beads)
Rosary Center:  7/8″ (22 mm), Sterling Silver .925 It depicts The Sacred Heart of Jesus on one side and Our Lady of Perpetual Help on the reverse.
Crucifix: 2 1/8″ (49 mm), Sterling Silver .925
Bead Caps: Sterling Silver .925
Wire: Sterling Silver .925
Method: Wire-wrapped by hand
Total Length:  34″ (86.5 cm)
Gift box:  Included
Additional Product Information Tab contains information pertaining to shipping box dimensions only.
---
Promises of Our Lord Jesus Christ to Saint Margaret Mary granted to persons devoted to the Sacred Heart.
For Persons living in the World. "They will find by means of this devotion all the helps necessary for their state, such as peace in their families, refreshment in their labors, the blessing of heaven in all their undertakings, consolation in their troubles, and it is truly in this Heart, that they will find their refuge during life and above all at the hour of death. He promised He would reunite families that are separated."
For Homes where the picture of the Sacred Heart shall be Exposed and Honored. "Since He is the source of all blessings, He shall shower them in abundance on every place where a picture of His Divine Heart shall be set up and honored."
Promise of Salvation for All Who Have Been Devoted and Consecrated to It. "He then confirmed His assurance that the pleasure He takes in being loved, known and honored by His creatures is so great . . . that all who will be devoted and consecrated to It shall never perish."
For Those Who work For the Salvation of Souls. "My divine Savior has given me to understand that those who work for the salvation of souls will have a gift of touching the most hardened hearts, and will labor with marvelous success, if they themselves are penetrated with a tender devotion to His Divine Heart."
Promise of a Happy Death for those Who Communicate on the First Friday of Nine Consecutive Months. One Friday during Holy Communion, He said these words to His unworthy slave if she is not mistaken, "I promise thee in the excessive Mercy of My Divine Heart, that It's all-powerful will grant the grace of final repentance to all who communicate on the First Friday of nine consecutive months, that they shall not die under Its displeasure nor without receiving the sacraments, for My Divine Heart will become their secure refuge at that last moment."
Promise of the Reign of the Sacred Heart. "Yes, this Divine Heart will reign in spite of those who would oppose it; Satan will be put to confusion with all his followers."
For Those Who Promote Devotion to the Sacred Heart of Jesus. "Those who propagate this devotion shall have their names written in My Heart never to be blotted out." What a perfect blessing! We can easily promote this devotion to His Sacred Heart by distributing this leaflet among as many people as possible urging them to enthrone their home to the Sacred Heart of Jesus.
For Communities. "He has promised me . . . that He will spread the sweet unction of His burning charity over all those communities who honor It and place themselves under its special protection, that He will turn away from them all the strokes of divine justice, in order to restore them to grace when they have fallen from it."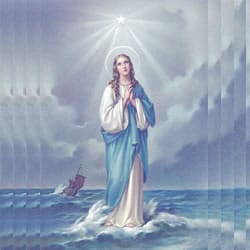 VIRGÓ SACRÁTA is a Christian mission-driven online resource and shop inspired from the beauty of Catholic faith, tradition, and arts. Our mission is to "Restore All Things to Christ!", in continuing the legacy of Pope St. Pius X under the patronage of the Blessed Virgin Mary. "Who is she that cometh forth as the morning rising, fair as the moon, bright as the sun, terrible as an army set in battle array?" O Mary, conceived without sin, pray for us who have recourse to Thee.