Description
ROSSINI PROPERS FOR PARISH CHOIRS FOR EVERY SUNDAY AND FEASTDAY OF THE LITURGICAL YEAR. The proper of the mass consists of the Introit, Gradual, Alleluia or Tract, Sequence, Offertory, and Communion – in other words, all the variable portions of a mass which are spoken or sung by the choir or the people.
This spiral-bound, lay-flat, book is designed for choral use. For years this book was the "gold standard' volume for use by parish choirs for Chant in the Mass. Carlo Rossini's choir book includes ALL OF THE PROPERS—words and notation—in sheet music format for every Sunday and feastday of the liturgical year. Organ accompaniment and Gregorian Psalm-tone notation is provided.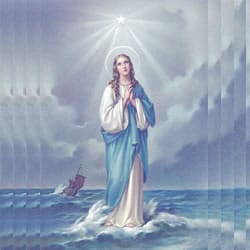 VIRGÓ SACRÁTA is a Christian mission-driven online resource and shop inspired from the beauty of Catholic faith, tradition, and arts. Our mission is to "Restore All Things to Christ!", in continuing the legacy of Pope St. Pius X under the patronage of the Blessed Virgin Mary. "Who is she that cometh forth as the morning rising, fair as the moon, bright as the sun, terrible as an army set in battle array?" O Mary, conceived without sin, pray for us who have recourse to Thee.