Description
A reprint of the Latin-only, 1944 edition of the traditional Rituale Romanum (Roman Ritual), the official liturgical book that contains the various blessings of the Roman Rite for such item as medals, rosaries, scapulars, etc.
This is the typical edition of the Rituale Romanum, it does not contain blessings particular to various countries like a Collectio Rituum.
A 4-page supplement containing the special exorcism prayers composed by Pope Leo XIII in 1890 has been included. (NB: the standard edition of the Rituale Romanum does not contain the full exorcism ritual; see Fr. Weller's Roman Ritual series).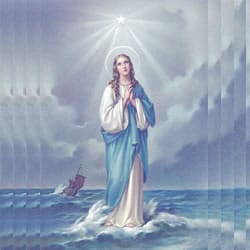 VIRGÓ SACRÁTA is a Christian mission-driven online resource and shop inspired from the beauty of Catholic faith, tradition, and arts. Our mission is to "Restore All Things to Christ!", in continuing the legacy of Pope St. Pius X under the patronage of the Blessed Virgin Mary. "Who is she that cometh forth as the morning rising, fair as the moon, bright as the sun, terrible as an army set in battle array?" O Mary, conceived without sin, pray for us who have recourse to Thee.