Description
The Risen Jesus Christ Sculpture is made of quality designer resin investment for home or garden is the sure centerpiece of any quiet spot of contemplation. Our garden sculpture inspires with its depiction of the risen Christ emerging from the tomb on the third day. With incredible sculptural detail, including the rough-hewn stone that was rolled away, the serenity of Christ's upturned gaze, and the inscription of John 11:25-26:
"Jesus said to her: I am the resurrection and the life: he that believeth in me, although he be dead, shall live: And every one that liveth, and believeth in me, shall not die for ever. Believest thou this?
The resurrection of Jesus has long been central to Christian faith and appears within diverse elements of the Christian tradition, from feasts to artistic depictions to religious relics. In Christian teachings, the sacraments derive their saving power from the passion and resurrection of Christ, upon which the salvation of the world entirely depends.
According to the Catechism of the Catholic Church:
Faith in the Resurrection has as its object an event which as historically attested to by the disciples, who really encountered the Risen One. At the same time, this event is mysteriously transcendent insofar as it is the entry of Christ's humanity into the glory of God.
The empty tomb and the linen cloths lying there signify in themselves that by God's power Christ's body had escaped the bonds of death and corruption. They prepared the disciples to encounter the Risen Lord.
Christ, "the first-born from the dead" (Col 1:18), is the principle of our own resurrection, even now by the justification of our souls (cf. Rom 6:4), and one day by the new life he will impart to our bodies (cf.: Rom 8:11).
Christians celebrate the resurrection of Jesus on Easter Sunday, two days after Good Friday, the day of his crucifixion. Easter's date corresponds roughly with Passover, the Jewish observance associated with the Exodus, that is fixed for the night of the Full moon near the time of the spring equinox.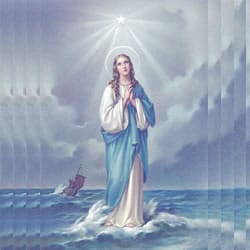 VIRGÓ SACRÁTA is a Christian mission-driven online resource and shop inspired from the beauty of Catholic faith, tradition, and arts. Our mission is to "Restore All Things to Christ!", in continuing the legacy of Pope St. Pius X under the patronage of the Blessed Virgin Mary. "Who is she that cometh forth as the morning rising, fair as the moon, bright as the sun, terrible as an army set in battle array?" O Mary, conceived without sin, pray for us who have recourse to Thee.