Description
Requiem or Requiem Mass, also known as Mass for the dead (Latin: Missa pro defunctis) or Mass of the dead (Latin: Missa defunctorum), is a Mass in the Catholic Church offered for the repose of the soul or souls of one or more deceased persons, using the Traditional Roman Missal.
Musical settings of the propers of the Requiem Mass are also called Requiems, and the term has subsequently been applied to other musical compositions associated with death, dying, and mourning.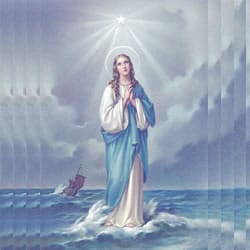 VIRGÓ SACRÁTA is a Christian mission-driven online resource and shop inspired from the beauty of Catholic faith, tradition, and arts. Our mission is to "Restore All Things to Christ!", in continuing the legacy of Pope St. Pius X under the patronage of the Blessed Virgin Mary. "Who is she that cometh forth as the morning rising, fair as the moon, bright as the sun, terrible as an army set in battle array?" O Mary, conceived without sin, pray for us who have recourse to Thee.