Description
The Song of Prayer: A Practical Guide to Gregorian Chant – A Practical Guide to Learning Chant + CD for practice.
This is a tried and true beginner's guide to the singing and understanding of Gregorian chant. The Song of Prayer shows how chant takes Christians back to the early days of the church when people gathered together to pray each day, every day.
You don't have to be highly musical in order to get started. Readers—individuals as well as study groups in churches and classrooms—will learn the basics of Gregorian chant, with some preliminary instruction in Latin, chant notation, its history and development, and very basic theology. An instructional 45-minute CD accompanies the book and provides a supreme example of the complete service of Compline, making learning easy and practical.
The Song of Prayer is the perfect introduction for those new to Gregorian chant, and eager to learn about this profound way of prayer.
Sample Pages
The Song of Prayer: A Practical Guide to Gregorian Chant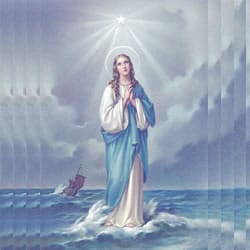 VIRGÓ SACRÁTA is a Christian mission-driven online resource and shop inspired from the beauty of Catholic faith, tradition, and arts. Our mission is to "Restore All Things to Christ!", in continuing the legacy of Pope St. Pius X under the patronage of the Blessed Virgin Mary. "Who is she that cometh forth as the morning rising, fair as the moon, bright as the sun, terrible as an army set in battle array?" O Mary, conceived without sin, pray for us who have recourse to Thee.