Description
Oval Picture Sacred Heart of Jesus
---
The month of June, as all Catholics know, is the month of the Sacred Heart (also known as the Most Sacred Heart of Jesus, Sacratissimi Cordis Iesu in Latin). During it, the Church urges the faithful to special zeal in the worship of the Heart of our Saviour, considered as a part of His sacred Humanity and as the emblem of His infinite love. The devotion to the Sacred Heart is one which has become widely known only since the seventeenth century; and it was not sanctioned by the Church for general use until the latter part of the eighteenth century. In 1899, Pope Leo XIII consecrated the world to the Sacred Heart of Jesus.
Prayers to the Sacred Heart of Jesus
---
O most holy Heart of Jesus, fountain of every blessing, I adore Thee, I love Thee and with a lively sorrow for my sins, I offer Thee this poor heart of mine. Make me humble, patient, pure, and wholly obedient to Thy will. Grant, good Jesus, that I may live in Thee and for Thee. Protect me in the midst of danger; comfort me in my afflictions; give me health of body, assistance in my temporal needs, Thy blessing on all that I do, and the grace of a holy death. Within Thy Heart I place my every care. In every need let me come to Thee with humble trust saying, Heart of Jesus help me.
Invocations to the Sacred Heart
---
Merciful Jesus, I consecrate myself today and always to Thy Most Sacred Heart.
Most Sacred Heart of Jesus I implore, that I may ever love Thee more and more.
Most Sacred Heart of Jesus, I trust in Thee.
Most Sacred Heart of Jesus, have mercy on us!
Sacred Heart of Jesus, I believe in Thy love for me.
Jesus, meek and humble of heart, make my heart like unto Thine.
Sacred Heart of Jesus Thy Kingdom Come.
Most Sacred Heart of Jesus, convert sinners, save the dying, deliver the Holy Souls in Purgatory.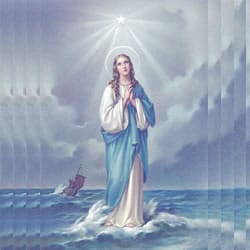 VIRGÓ SACRÁTA is a Christian mission-driven online resource and shop inspired from the beauty of Catholic faith, tradition, and arts. Our mission is to "Restore All Things to Christ!", in continuing the legacy of Pope St. Pius X under the patronage of the Blessed Virgin Mary. "Who is she that cometh forth as the morning rising, fair as the moon, bright as the sun, terrible as an army set in battle array?" O Mary, conceived without sin, pray for us who have recourse to Thee.