The Pardon Crucifix Rosary beads are made of rich chocolate hued, smoky quartz. The reversible rosary Scapular Center Piece features the Heart of Jesus on one side and Lady of the Scapular Medal on the other.
Sterling Silver Pardon Crucifix Rosary Parts
---
Beads: Genuine Smoky Quartz Semiprecious Stone, 8 mm (59 beads)
Bead Caps: 12 Sterling Silver
Center Piece:  Scapular Rosary Center 3/4″ (19 mm), 0.925 Sterling Silver
Crucifix: Pardon Crucifix 2 1/8 x 1 3/8 inches (53mm x 34mm), .925 Sterling Silver
The Pardon Crucifix is highly indulgenced by Pope Pius X. "Whoever, at the moment of death, fortified with the sacraments of the church or at least contrite of heart in the supposition of being unable to receive them, will kiss this crucifix and ask pardon of God for his sins, and pardon his neighbor, will gain a PLENARY INDULGENCE." A powerful safety net for salvation to keep this pardon rosary with you!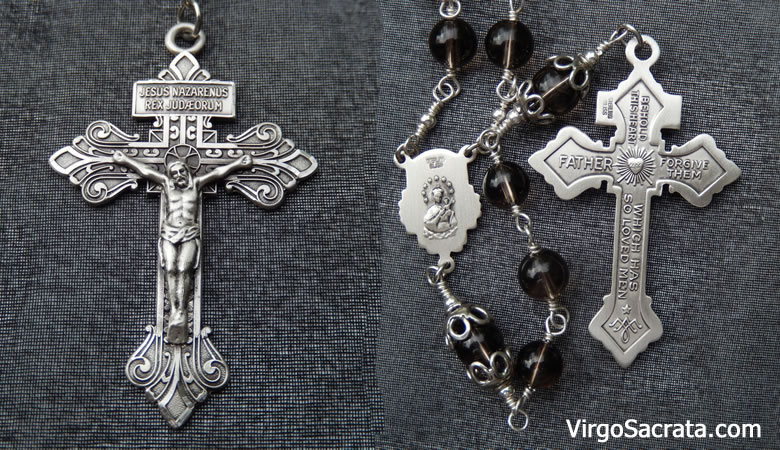 Wire: 22 Gauge 0.925 Sterling Silver
Method:  Wire-wrapped by hand
Total Length:  27″ (69 cm)
Gift box:  Included
Additional Information Tab: contains information pertaining to shipping box dimensions only.