Description
Pardon Crucifix ranks up with other powerful sacramentals such as Miraculous Medal and Saint Benedict Medal. Pope St. Pius X used the keys to heaven to attach heavenly rich indulgences to it.
This  crucifix is available in sterling silver, 14k gold-filled, solid 14k and18k gold.  If you would like to add a chain, please make a selection from our Necklaces & Chains page.  Virgo Sacrata offers various chain styles in various sizes and materials, including sterling silver neck chains, gold-filled neck chains, and 14K gold neck chains.
The Front of the Pardon Crucifix
---
Above the cruciform figure, the familiar I.N.R.I. has been inscribed with the words "Jesus Nazarenus Rex Judaeorum".  Latin uses I instead of the English J, and V instead of U (Iesvs Nazarenvs Rex Ivdaeorvm). The English translation is "Jesus of Nazareth, the King of the Jews."
The Reverse of the Pardon Crucifix
---
On the transverse arms are the words, "Father, forgive them." On the vertical beam of the Cross are the words, "Behold this heart which has so loved men." An image of The Sacred Heart of Jesus is shown in the center.
---
Buy with Confidence from the Virgo Sacrata.
Handcrafted in the USA, Our religious jewelry comes with a Lifetime Manufacturer's Warranty!
---
Sterling Silver Crucifix
Our Sterling Silver crucifix is at least 92.5 percent pure silver. Copper is typically combined to improve the metal's hardness and durability without compromising the quality and look of the silver.
Sterling Silver medals are marked with a quality stamp to ensure the content of the silver. Federal law mandates that the quality stamp must include the maker's mark. You will find either "Sterling Bliss" or "Sterling BLI" on the back of our medals – both acceptable quality marks.
14 Karat Gold Filled Crucifix
---
14kt Gold filled, also known as rolled gold is made up of a solid layer of 14 Karat Gold bonded with a base metal, such as brass, on both the front and back of the medal. Total content of Gold is 1/20 of the weight of the medal.
14 Karat Gold Crucifix
---
Our 14 Karat Gold is composed of 58.3 percent pure gold and is ideal for fine jewelry. Other alloys, such as copper, are mixed in with the gold to give more of a red warm hue. This also gives the metal strength. Since gold is a natural element, it is very durable. We do recommend removing the jewelry if it may come in contact with chemicals. To clean gold jewelry, use warm water and detergent-free soap and a soft brush.
18 Karat Gold
---
This medal is also available in 18K Gold.
Lifetime Guarantee
---
Bliss Manufacturing stands behind its' jewelry and honors a lifetime guarantee. Our medals are sprayed with a lacquer coating to protect the finish. Should any of our medals, crosses, crucifixes, or chains tarnish,  or have defects, we will either repair or replace free of charge. This guarantee takes precedence over our standard return policy.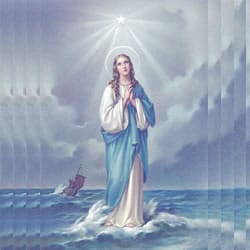 VIRGÓ SACRÁTA is a Christian mission-driven online resource and shop inspired from the beauty of Catholic faith, tradition, and arts. Our mission is to "Restore All Things to Christ!", in continuing the legacy of Pope St. Pius X under the patronage of the Blessed Virgin Mary. "Who is she that cometh forth as the morning rising, fair as the moon, bright as the sun, terrible as an army set in battle array?" O Mary, conceived without sin, pray for us who have recourse to Thee.