Our Lady of Mount Carmel Rosary is made with light blue Jade beads, traditionally wire-wrapped in bronze, and Our Lady of Mount Carmel Rosary Center in the Carmelite Habit, with the Infant Jesus holding the little Scapular in His Hands, and a solid brass IHS rosary crucifix — a combination of letters that represent the Holy Name of Jesus, often referred in Latin as "Iesus Hominum Salvator" – IHS – "Jesus Saviour of Mankind."
"One day through the Rosary and the Scapular I will save the World"
the Blessed Virgin Mary told Saint Dominic.
Our Lady of Mount Carmel Rosary Parts
---
Beads: Light Blue Jade (Dyed) 8mm  (53 beads) and 10mm (6 beads)
Rosary Center: Our Lady of Mount Carmel 3/4″ x 1/2″, Brass
Crucifix: 1-3/4″ x 1 1/8″, Brass
Wire: Bronze
Method: Wire-wrapped by hand
Total Length: 34″ (86 cm)
Gift box: Included
About Our Lady of Mount Carmel
---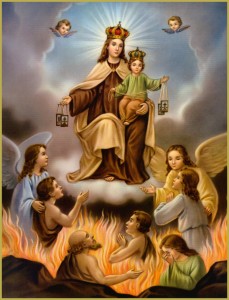 Order of Our Lady of Mount Carmel according to legend, dates from Old Testament times. Equally well known for its communities of women as for those of men, it has been largely responsible for the development of a theology of the spiritual life. At the present time the men devote themselves considerably to the ministry of preaching and teaching, but the convents of women live a completely cloistered existence spent mainly in the chanting of Office and the pursuit of domestic crafts such as the making of altar vestments and the baking of breads for the Sacrifice of the Mass.
Our Lady of Mount Carmel is the title given to the Blessed Virgin Mary in her role as patroness of the Carmelite Order. The first Carmelites were Christian hermits living on Mount Carmel in the Holy Land during the late 12th and early to mid 13th century. They built in the midst of their hermitages a chapel which they dedicated to the Blessed Virgin, whom they conceived of in chivalric terms as the "Lady of the place."
Since the 15th century, popular devotion to has centered on the Scapular of Our Lady of Mount Carmel also known as the Brown Scapular, a sacramental associated with promises of Mary's special aid for the salvation of the devoted wearer. Traditionally, Mary is said to have given the Scapular to an early Carmelite named Saint Simon Stock.
The feast of Our Lady of Mount Carmel is celebrated on the sixteenth of July. It honors the intercessory power of Mary as manifested in the benefits granted to wearers of her scapular, and was approved for the Carmelite order by Sixtus V in 1587. It was made a feast for the entire Church at a later date.