Description
Our Lady of Mercy One Decade Rosary includes the following parts:
---
Beads: Genuine Russian Amazonite semiprecious gemstone 10mm
Rosary Center:  Our Lady Of Mercy 3/4″ x 1/2″, Sterling Silver 0.925
Crucifix: 1 3/4″ x 1 1/8 ", Sterling Silver 0.925
Bead Caps: Sterling Silver 0.925
Wire: Sterling Silver
Method: Wire-wrapped by hand
Total Length:  10″ (26 cm)
Gift box:  Included
Additional Product Information Tab contains information pertaining to shipping box dimensions only
About Our Lady of Ransom (Our Lady of Mercy)
---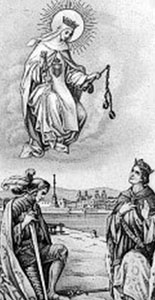 Miracles & Signs: A plague of locusts was banished from Barcelona through the intercession of the Virgin of Mercy.
Summary: The Blessed Virgin appeared to three men who established the Mercedarian religious order for the redemption of Christian captives from Moorish imprisonment and offer themselves, if necessary, as an exchange.
Description of the Virgin Mary
She is dressed all in white: over her long tunic she wears a scapular with the shield of the order imprinted breast high. A cloak covers her shoulders and her long hair is veiled by a fine lace mantilla. Some images have her standing, with the child in her arms, or carrying two bags of coins for use in ransoming Christians imprisoned by Moors. In yet others she is shown with her arms extended showing a royal scepter in her right hand and in the left some open chains, a symbol of liberation.
After Vatican II the name "Our Lady of Ransom" was changed to "Our Lady of Mercy", however, the Feast of Our Lady of Ransom is the liturgical feast day of Our Lady of Ransom celebrated in Tridentine Roman Calendar on September 24.
PRAYER TO OUR LADY OF MERCY
---
(By St. Augustine of Hippo)
Blessed Virgin Mary,
who can worthily repay you with praise
and thanks for having rescued a fallen world
by your generous consent!
Receive our gratitude,
and by your prayers obtain the pardon of our sins.
Take our prayers into the sanctuary of heaven
and enable them to make our peace with God.
Holy Mary, help the miserable,
strengthen the discouraged,
comfort the sorrowful,
pray for your people,
plead for the clergy,
intercede for all women consecrated to God.
May all who venerate you
feel now your help and protection.
Be ready to help us when we pray,
and bring back to us the answers to our prayers.
Make it your continual concern
to pray for the people of God,
for you were blessed by God
and were made worthy to bear the Redeemer of the world,
who lives and reigns forever.
Amen.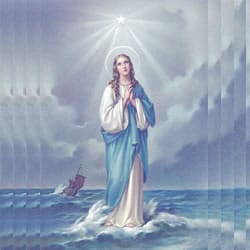 VIRGÓ SACRÁTA is a Christian mission-driven online resource and shop inspired from the beauty of Catholic faith, tradition, and arts. Our mission is to "Restore All Things to Christ!", in continuing the legacy of Pope St. Pius X under the patronage of the Blessed Virgin Mary. "Who is she that cometh forth as the morning rising, fair as the moon, bright as the sun, terrible as an army set in battle array?" O Mary, conceived without sin, pray for us who have recourse to Thee.