The metal cover (riza) protecting "Our Lady of Kazan Icon" is coated with a mirror's smooth surface of .925 sterling silver and gilt. The icon under the riza is made by silk-screen printing method, a special paint is applied layer by layer 23 times, producing clear and crisp image. On the back of the icon there is a hole to hang it on the wall, and a folding foot-board as an option to stand. Comes in a cloth bag and in a branded gift package. Made by Italian Iconographers.
According to tradition, the original icon of Our Lady of Kazan was brought to Russia from Constantinople in the 13th century. Our Lady of Kazan Feast Days: July 21 and November 4.
People pray before this icon for recovery of sight and when they have eye illnesses. Also it helps against enemy's invasions, violence from infidels, and people pray before it for deliverance from the civil wars. It is this icon, that the bride and bridegroom are blessed for the wedding; this icon is in children's rooms. To the Holy Mother people turn their prayers when they have trouble, disease and misfortune:
"When sorrow and pain visit us, when patience and love fail us, we hasten to Thine Image and pouring forth our tears before Thee, we cry out from the depths of our hearts: Stretch out Thy God-bearing hands, speak unto us words of wisdom, lead us up out of evil" (Akathist to Our Most Holy Lady, K. 4)
O fervent intercessor, Mother of the Lord Most High,
thou dost pray to thy Son Christ our God and savest all who seek thy protection.
O Sovereign Lady and Queen,
help and defend all of us who in trouble and trials,
in pain and burdened with sins, stand in thy presence before thine icon,
and who pray with compunction, contrition, and tears and with unflagging hope in thee.
Grant what is good for us,
deliverance from evil, and save us all, O Virgin Mother of God,
for thou art a divine protection to thy servants.
About Our Lady of Kazan Icon
---
The 13th-century miraculous Kazan Icon is one of the most popular devotions to the Virgin Mary in Russia. Because of her timely intercession for Russia in various battles, Our Lady of Kazan became known as the "protectress of Russia" and associated with the very destiny of Russia as a nation.
In 1918, the Icon disappeared from Our Lady of Kazan Basilica in Moscow, but her story did not end there. It was found and purchased around 1970 by the Blue Army of Our Lady of Fatima with the intent of safeguarding it in Fatima until after Russia's conversion, when it would be returned. The Kazan Icon thus took on a special symbolic value for the West also, linked to the Fatima prophecies. In 1993 the Blue Army gave it to John Paul II, and it remained in his private apartments for a decade.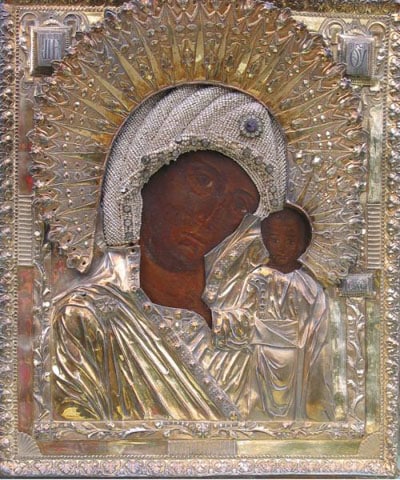 On August 26, 2004, the Virgin of Kazan went on display on the altar of St. Peter's Basilica. Two days later, it was delivered to Moscow. Vatican Cardinal Walter Kasper handed the icon back to the Russian Orthodox Church in a ceremony at the Kremlin's Cathedral of the Assumption, as a personal gift from Pope John Paul II.
It would be almost one year later, on the next feast day of the holy icon – July 21, 2005 – that Patriarch Alexius II placed it in the Annunciation Cathedral of the Kazan Kremlin. The Virgin of Kazan was back where she belonged – and where she had conquered, it seemed, the forces of communism.
"I am convinced that Our Lady of Kazan, thanks to her powerful intercession, will be our support and our ally in the commitment to overcome the reservations, difficulties, misunderstandings and differences of faith that unfortunately still exist among us; thanks to her intercession before God's throne, she will gather together perfectly the Catholic Church and the Orthodox Church in the one and only Church of Christ." ~ HOMILY BY CARDINAL WALTER KASPER. Altar of the Chair in St Peter's Basilica. Thursday, 26 August 2004