Description
About Our Lady of Kazan Icon
---
The 13th-century miraculous Kazan Icon is one of the most popular devotions to the Virgin Mary in Russia. Because of her timely intercession for Russia in various battles, Our Lady of Kazan became known as the "protectress of Russia" and associated with the very destiny of Russia as a nation.
In 1918, the Icon disappeared from Our Lady of Kazan Basilica in Moscow, but her story did not end there. It was found and purchased around 1970 by the Blue Army of Our Lady of Fatima with the intent of safeguarding it in Fatima until after Russia's conversion, when it would be returned. The Kazan Icon thus took on a special symbolic value for the West also, linked to the Fatima prophecies. In 1993 the Blue Army gave it to John Paul II, and it remained in his private apartments for a decade.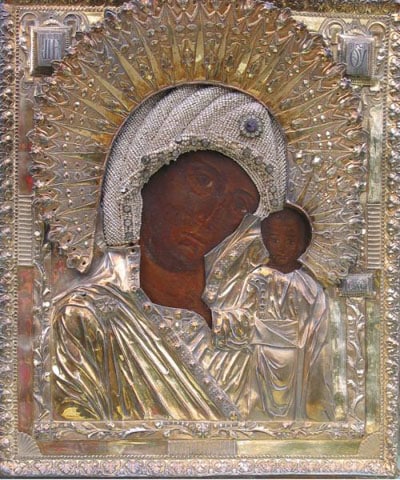 On August 26, 2004, the Virgin of Kazan went on display on the altar of St. Peter's Basilica. Two days later, it was delivered to Moscow. Vatican Cardinal Walter Kasper handed the icon back to the Russian Orthodox Church in a ceremony at the Kremlin's Cathedral of the Assumption, as a personal gift from Pope John Paul II.
It would be almost one year later, on the next feast day of the holy icon – July 21, 2005 – that Patriarch Alexius II placed it in the Annunciation Cathedral of the Kazan Kremlin. The Virgin of Kazan was back where she belonged – and where she had conquered, it seemed, the forces of communism.


Rosary Bay is a Christian mission-driven online resource and shop inspired from the beauty of Catholic faith, tradition, and arts. Our mission is to "Restore All Things to Christ!", in continuing the legacy of Pope St. Pius X under the patronage of the Blessed Virgin Mary. "Who is she that cometh forth as the morning rising, fair as the moon, bright as the sun, terrible as an army set in battle array?" O Mary, conceived without sin, pray for us who have recourse to Thee.