Description
Place an Olive Wood Wall Crucifix in Every Room of Your Home
---
The Holy Cross is only wood from a tree.  But God works powerfully through the wood of the Cross because Jesus was nailed and died on this wood.  For this reason it has become a object of respect and worship for all Christian people.  God continues to bring about healing and conversions through such a horrible instrument of death.  "We adore you O Christ and we bless You, because by Your Holy Cross You have redeemed the world".
It has long been a tradition of Catholic families to hang crucifixes throughout their homes, or to even have a crucifix embedded into the foundation of the house. Some merely hang the crucifix on the walls of their home as a reminder of Christ's redemptive sacrifice, but beyond this it is also a sacramental, used in devotion to Our Lord and as a guard against evil. The Vatican's exorcist, Gabriele Amorth, encourages the faithful to keep a crucifix in every room.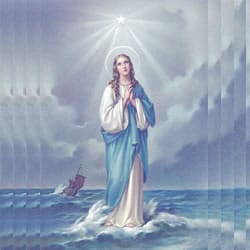 VIRGÓ SACRÁTA is a Christian mission-driven online resource and shop inspired from the beauty of Catholic faith, tradition, and arts. Our mission is to "Restore All Things to Christ!", in continuing the legacy of Pope St. Pius X under the patronage of the Blessed Virgin Mary. "Who is she that cometh forth as the morning rising, fair as the moon, bright as the sun, terrible as an army set in battle array?" O Mary, conceived without sin, pray for us who have recourse to Thee.